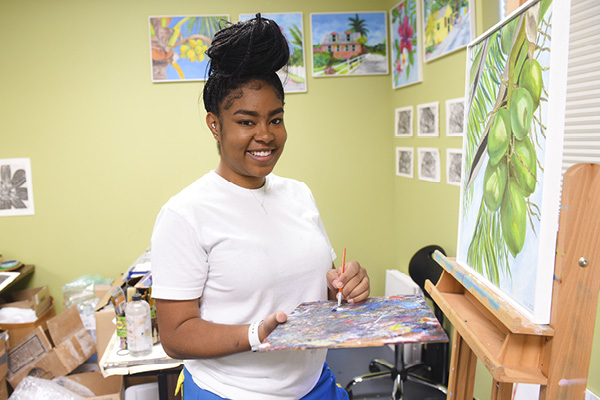 University of the Ozarks senior art major Aaliyah O. Knowles will present her Senior Exhibit, "Da Sun on My Skin," from April 15-22 in the University's Stephens Gallery.
There will be an artist talk at 7 p.m. on Monday, April 18, in Baldor Auditorium in the Boreham Business Building. There will also be a reception to meet the artist at 7 p.m. on April 22, in the gallery, located in the Walton Fine Arts Center.
Knowles, from The Bahamas, will graduate next month with Magna Cum Laude honors. She said her pottery and paintings reflect the love and admiration she has for The Bahamas and added that her Bahamian background fuels her artistic passion.
"The Bahamas is made up of 17 populated islands and each has their unique traditions," Knowles said. "My pottery sets and two dimensional work captures these traditions."
"Strolling down the Cape Beach as the sand melts beneath my feet with every step. Relaxation taking over the body as the cool breeze ruffles through my clothing. The sound of the waves crashing into the shore competes with the birds singing above. The transparency of the turquoise waters mirrors the marble blue skies that fills the atmosphere with warmth. This is the island life, the experience, 'This is Da Sun on my Skin.' "
Knowles said functional pottery has an intimate connection with its users.
"As my Goombay mug is being held in your hand, your fingers fit comfortably in the curved handle, and your lips kiss the smooth rim as you indulge in your beverage," she said. "For the potters mark, "AOK" is written on the bottom of each pot. This is my initials and reminds the user of some form of an upbeat and fun attitude. Each set consist of a family of three pieces, a plate, mug and bowl. Textures that are essential to the Bahamian way of life are reborn as surfaces and use natural materials from Long Island, my home, in-partner with molding mediums from the studio."
Knowles said the forms contain subtle, spherical curves with surface designs depicting the tropical scenery and rich culture of The Bahamas.
"The 'northside' ocean in the family islands are an intense shade of blue," she said. "This scenery is represented by the high-fire glazes of dark hues of blues and green with speckles throughout. The light sky blue hues mimic the way the sun peacefully garish the low-tide beaches while the beige clay body at the bottom depicts the golden sand. The vibrant Junkanoo culture is brought to life by the bold colorful brush strokes that list popular Bahamian dishes, like peas 'n rice, and fried snapper."
Knowles said that Bahamian artist Chan Pratt has been a huge influence on her work, saying "his realistic paintings invite the artist to experience the beautiful street life of Nassau."
"My paintings capture the sunny landscape of the islands," Knowles said. "The bright hues of blues and yellow work in harmony with the 3D pieces which completes my storytelling. I use color to represent the different aspects of Bahamian culture, the islands, annual events, dialect spoken, and names of Bahamian artists. My subtle functional pottery captures the Bahamian experience."
Topics: About, Art, International