University of the Ozarks art students Abby Kern and Carmen Castorena took home honors in the 2014 Collegiate Competition & Exhibition at the River Valley Arts Center in Russellville.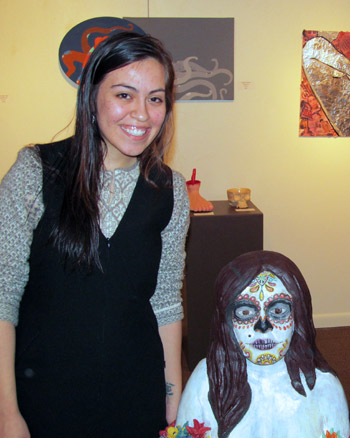 Carmen Castorena (left) took honorable mention for her artwork "Reviviendo Mi Pasado (Reliving My Past)."
The competition, which was held at the arts center on Feb. 1-2, included college students from throughout the region. Kern, a senior from Wichita, Kan., took third place for her White Stoneware sculpture "Do It Like Bunnies." Castorena, a sophomore from Searcy, Ark., received an honorable mention for her Earthenware with Glaze sculpture "Reviviendo Mi Pasado (Reliving My Past)."
Other U of O students who took part in the competition included Tyler Rideout, Chelsey Becker and Amanda Fields. The lead instructor of the projects was Assistant Professor of Art Dawn Holder.
"The Art Program is proud of how well the students did in this competition," said Associate Professor of Art Tammy Harrington. "It highlights the skill and talent of our art students at U of O. Dawn Holder is an exceptional resource and inspiration for our students in the 3-D area."
Kern said her sculpture took approximately 75 hours to complete and was inspired by the sexual perception of the young female in today's American culture.
"There is a strong correlation between female sexuality, specifically attractiveness, and social success," Kern said. "Yet, oftentimes, young females are criticized for their sexual life. These rabbits are unapologetically fulfilling the stereotype with no shame or worry about consequences. I hope the viewers can be endeared by the rabbits, and want to be near them, but also be put off by the somewhat explicit nature of the bunnies."
Castorena said she has been working with sculptures for less than five months and credited Holder for being an inspiration as she worked in the new medium.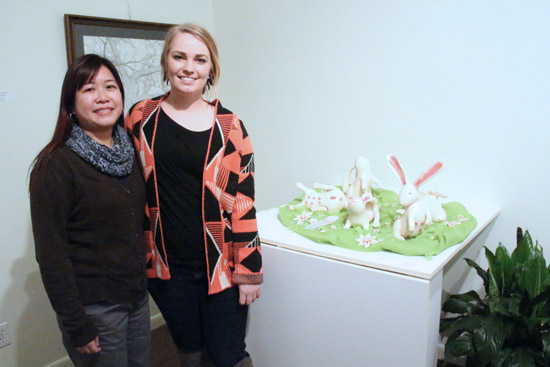 "This is a completely new medium for me and I've fallen in love with it," she said. "Professor Holder has been a great mentor and teacher for me. She has pushed and encouraged me to really put myself into my work and to constantly strive to get better."
Abby Kern (right), posing with U of O Art Professor Tammy Harrington, won third place in the 2014 Collegiate Competition & Exhibition for her sculpture "Do It Like Bunnies."
Topics: Art