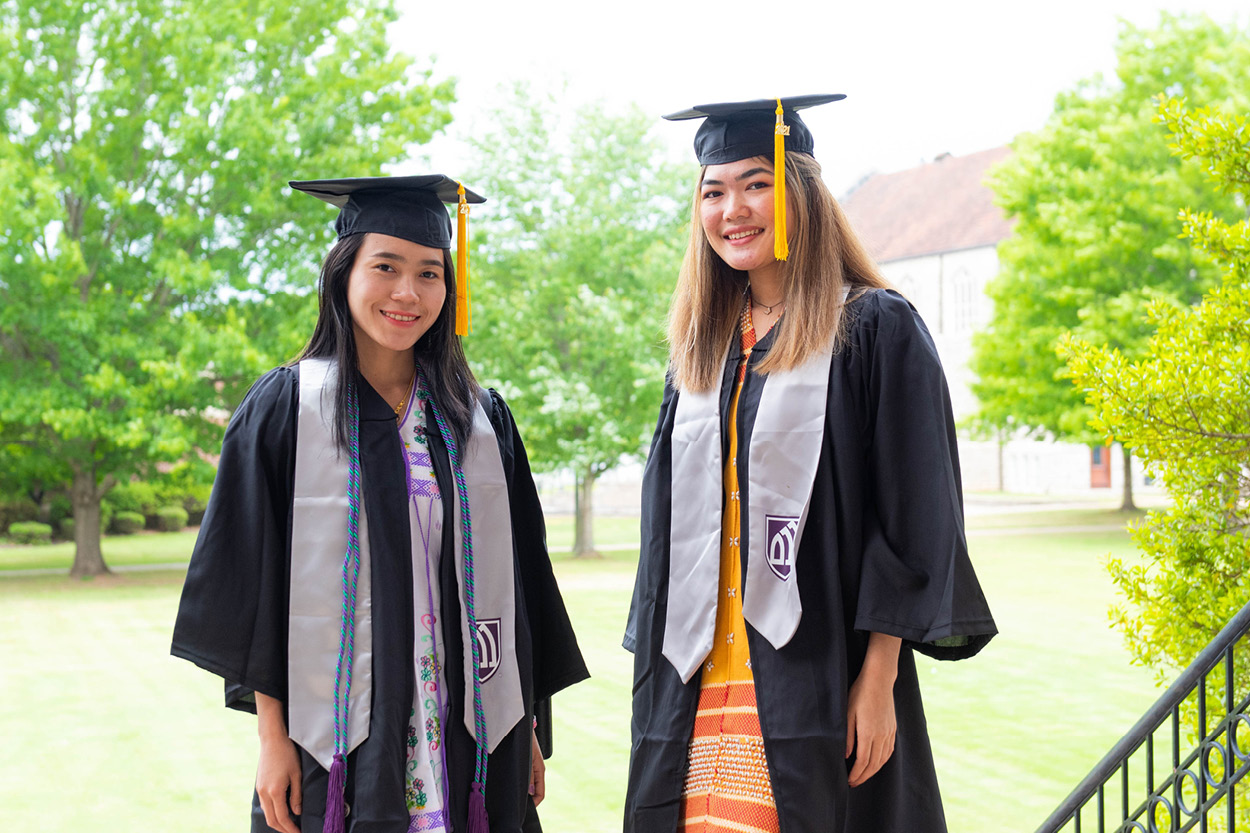 A journey of mercies and miracles.
That's how University of the Ozarks graduating seniors Aye Aye and Paw Moo Lar described their pathway from a refugee camp in Thailand to soon-to-be college graduates.
Aye (pictured, left) and Lar will be among 148 graduates from the University's Class of 2021 who will walk across the stage on Saturday to receive their college diploma. But their story is unlike any other.
The two close friends are Karen, an ethnic group from Burma (Myanmar), many of whom fled the country due to religious and ethnic persecution by the government. For more than 20 years many Karen have migrated to Thailand, settling in United Nations refugee camps on the Thailand–Myanmar border.
Aye and Lar were born in separate refugee camps in Thailand and spent their early years there before relocating with their families to the United States as teenagers. They are among a community of about 700 Karen people who live in Clarksville.
Aye, who moved to Clarksville from Thailand at the age of 17, is graduating from Ozarks with a major in elementary education and, impressively, with Cum Laude honors, a cumulative grade point average of between 3.25 and 3.49.
Struggling with English and a new culture, Aye remembers times of total frustration in both high school and in her early years at Ozarks.
"Learning English has been the hardest thing I've ever done in my life and I am sometimes amazed how far I've come," she said. "It was completely overwhelming at times, but I was determined to not give up. I remember several times at school going into restroom and just crying because I was so frustrated. I would just let the stress out and then go back and try harder."
Lar, who is graduating with a degree in business administration, moved with her family from Thailand to Nashville, Tenn., in 2015, and then to Clarksville two years later. She said that learning English hasn't been the only struggle. Trying to navigate higher education as a first-generation college student has also been a challenge.
"When you're the first in your family to go to college, you can't ask your parents how to do this or that," Lar said. "Sometimes you feel like you have to figure everything out on your own and it can be a lonely feeling. That's where our professors and staff and even classmates helped us so much."
Lar remembers one of her first classes at Ozarks where the professor handed out a course syllabus, something she had never heard of.
"I ended up just throwing it away and not paying attention to it because I didn't realize what it was," she said. "During the next class, the professor said we were having a test. That caught me by complete surprise because he hadn't said anything about a test. My classmate told me it was on the syllabus. I learned the importance of a syllabus the hard way."
Aye and Lar were among the first five Karen students who enrolled at Ozarks in 2017. They are the only two remaining from that first class of Karen students.
"There have been several Karen students from our community who have started college, but we will be the first to graduate from college and that's something we're very proud of," Aye said. "I've had a lot of people, including some of my high school teachers, that tell me how proud they are. I think the entire Karen community is proud of us. It's a great feeling to be able to show others what can be done with a lot of hard work."
Growing up in a refugee camp without electricity or running water made the two students appreciate the opportunity to further their education.
"When I think back about that little girl in the refugee camp, I would never have thought I would be where I am today," said Lar. "That little girl doesn't have a future at all; no opportunity to improve herself. But I got the opportunity to come here and study and now I'm a role model for other young Karen students. It's all kind of hard to believe."
Aye remembers long nights of studying to get through her classes at Ozarks.
"Most nights I would not get to sleep until midnight," she said. "Assignments that might take other students an hour to do took me five or six hours. But it seemed like each time it would get a little easier and seeing that improvement kept me going."
The two students said they were thankful that Ozarks gave them an opportunity to earn a college degree and credited the University's support system, especially Student Support Services, for helping them navigate college.
"I will never be able to thank the University enough for accepting us as we were and for giving us an opportunity to get an education," Aye said, "The professors, the staff, the Student Support Services, they all helped us in so many ways. I can't tell you how many times we would go to Ms. Connie High's office in SSS to get help or just to have someone to talk to. Everyone was so very patient and willing to help us reach this point."
Both Aye and Lar have younger siblings and they hope their journey to a college degree is an inspiration to their families.
"I have younger sisters who are 17 and 11 years old and they are talking about going to college," Aye said. "My parents are I are always talking about college to them and getting them ready for that next step. I'm proud that I can be an example for them and show them that it can be done."
Lar's 17 year-old sister is planning to attend college next year.
"I'm excited that it will be easier for her than it was for me," Lar said. "I know that I will be able to answer some of her questions about college and to help her along the wat. That's a good feeling."
Aye wants to pursue a career in education and Lar would like to become an administrator for a business or organization. They are both determined to pursue a career of service, helping not only their fellow Karen citizens but other underserved populations as well.
"When I think about all the people who helped us along the way, I want to be able to help pay that back by doing the same thing," Lar said. "I want to use my business degree to help those who might not understand English very well to get through the different processes, whether that's at the hospital or at a business or organization."  
Said Aye, "I want to be the kind of teacher that I had who helped me so much. I want to be a role model for other young students like me who have to overcome so much to succeed. I just feel extremely blessed to be in position where I can now help others see what is possible."
Topics: About, Academics, Business Administration, Elementary Education, Student Stories