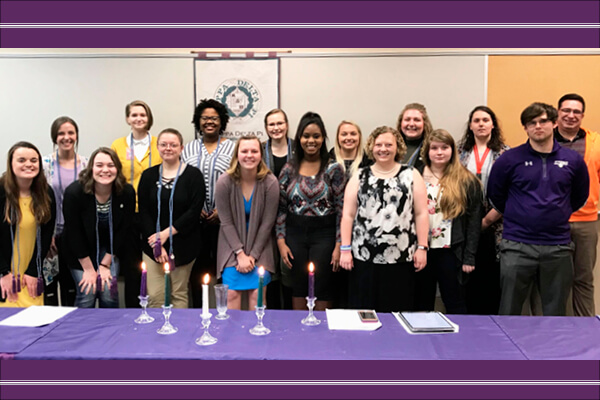 The University of the Ozarks' chapter of Kappa Delta Pi (KDP), the international honor society for teacher education, inducted several new members during a special ceremony in the Pat Walker Teacher Education Program on Thursday, April 4.
The ceremony included current KDP members as well as faculty and administrators from the program and the University.
Both new and current KDP members at the ceremony included, (pictured: front row, from left) Olivia Allard, Annie Rogers, Aubree Sisson, Jesse Cave, Miracle Warren, Ann Rener, Willow Stratton, Tyler O'Banion (back row, from left) Chapter President Shelby Carlton, Lauren Dotson, Makara Frazier, Bailey Hall, Brooklyn Keeling, Whitney McCrary, Tonya Palmer, and chapter sponsor Dr. Javier Taylor, instructor of practice of education.
The new inductees were, Allard, Cave, Dotson, Keeling, O'Banion, Rener, Stratton and Warren.
The chapter's graduating seniors were also recognized and honored. They included, Carlton, Allard, Rogers, Sisson, Dotson, Frazier, Hall, Keeling, McCrary, Palmer, Poly Ojeda and Jasmine Rosales.
Kappa Delta Pi  was founded by Dr. William Bagley in 1911 at the University of Illinois. It was established to foster excellence in education and promote fellowship among those dedicated to teaching. The founders chose the name from the Greek words to represent knowledge, duty, and power. Pioneering from its beginning by including women as well as men, KDP grew from a local chapter to the international organization it is today, comprising 600 chapters and more than 40,000 members.