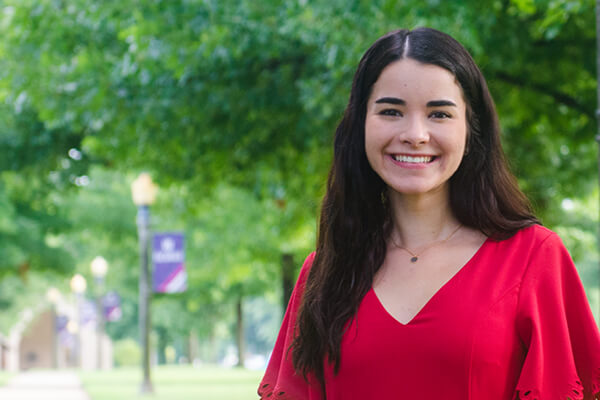 Nicole Justice, a 2018 graduate of University of the Ozarks, has joined the University's Office of Admission as the international program and global outreach manager, effective July 15.
Justice will manage all international programs and activities, including study abroad programs. Also, in collaboration with the director of the Walton International Scholarship Program, she will lead and support other global outreach initiatives on campus.
"I am very excited and happy to return to Ozarks," Justice said. "During my undergraduate studies Ozarks became my second home. The community, values and experiences at Ozarks are unique and special. I am excited to promote, engage and explore new global opportunities for students. Overall, I am truly grateful and honored to return and serve as the international student liaison on campus."
A native of Panama, Justice graduated from Ozarks with majors in political science and international business with Summa Cum Laude honors. She is completing a master's degree in international relations from the University of London Institute in Paris, France.
"I strongly believe in the importance of international education, global diversity and the life-changing impact it has on international students as well as on the campus community," she said. "If an international student has passion, dedication and a commitment to their education, I want to provide them with an inclusive environment where they can foster their personal development and succeed globally."
As a student at Ozarks, Justice worked in the Office of Student Affairs, the International Office and the Jones Learning Center. She also previously worked as an independent contractor for the Forrester-Davis Development Center as a grant writer and administrative assistant.
Several members of Nicole's family are also U of O graduates, including her father, Tom Justice '89; her mother, Lilia Carrion '90; and her brother, Michael Justice '17. Also, her fiancé, Aaron England '16, is an Ozarks graduate.
Outside of work, Justice enjoys hiking, exploring the outdoors, traveling and learning about different cultures.
Topics: About, Admission, International