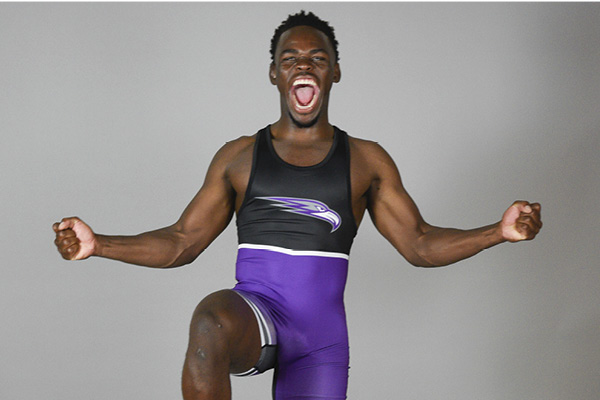 With an effortless smile and an affable and outgoing personality, it's sometime difficult to picture Ndayambaje John as one of the top NCAA Division III wrestlers in the country or as someone who grew up in a refugee camp in Africa.
John, a senior from Memphis, Tenn., will be one of 10 wrestlers from U of O who will compete in next week's NCAA Division III Lower Midwest Regional Wrestling Championships in Dubuque, Iowa. The top three finishers in each weight class will advance to the NCAA Division III National Championships in Iowa next month.
John won the Southeast Conference Championships in Virginia earlier this month in the 165-pound division. He now heads to the regionals for the third time in his stellar four-year career at Ozarks.
"I think back on the last two times I was at regionals, as a freshman and sophomore, and it's a lot different this time," John said. "In the past I was a little bit in awe of the atmosphere and of the level of competition. I don't know that I truly believed I belonged there. Now, as a senior, I have so much more confidence and I can't wait to compete against the top wrestlers in the region."
John said he makes it a point to have fun when wrestling, whether it's in practice or in competition.
"For me, high school wrestling was more about winning and I didn't really have fun," he said. "Now I just try to enjoy the entire process, whether it's the workouts, the practices or the matches. I especially enjoy the time with my teammates. We have a very close-knit team and I enjoy being around all of my teammates."
Ozarks Head Wrestling Coach LeRoy Gardner calls John a "character."
"He is always looking to make a joke, and he definitely enjoys the journey," Gardner said. "It makes it great because every time he enters a room he brings a bit of light to the room. He asks as much of his teammates as he does himself. He expects a lot out of them. He is a great friend to many. As a student he cares about his preparation and his performance. He wants to earn his success in all areas. I respect that a lot about him. It's been wonderful being a part of his journey."
That John is a collegiate wrestler and soon-to-be college graduate is quite remarkable in itself. He was born and grew up in a refugee camp in Tanzania before his family, including nine siblings, was relocated to Memphis when he was seven years old.
"I don't remember a whole lot about it but I know it was quite a change for me and for my family," John said. "Learning English was difficult and there were a lot of adjustments and challenges along the way, but having a big family to be with definitely helped. When I think about how far I've come since then, it's pretty amazing."
John's family moved to Illinois for a few years before returning back to Memphis for John's sophomore year in high school. It was in Illinois that he was introduced to wrestling and quickly fell in love with the sport.
"I just loved the fact that, as our coaches like to say, you get out of it what you put into it," John said. "In other sports you're often relying on your teammates, but in wrestling everything comes down to you and how well you prepared yourself. I like that aspect of it."
John, who finished fifth in his division at the Tennessee High School state championships as a senior, has shown steady improvement during his time at Ozarks, according to his coaches.
"He has been steadily improving since he first showed up on campus four years ago," said Associate Head Coach Vincent Barber.  "Coming out of high school he lacked some technical tools needed to be successful in college. He has stayed diligent in learning and developing new skills to help him continuously jump levels. Most importantly, he has grown as a leader for our program, not only in the room but around campus and the community."
The coaches said that on the mat, it's John's uncanny strength and courage to attack and take calculated risks that set him apart from other wrestlers.
"He has very good leg attacks and is very explosive," Barber said. "He battles through all positions and is stingy when giving up scores. He has a swagger to him when he wrestles; he enjoys being on the mat competing and showcasing his work. He has really gotten a lot better these past few seasons on top and bottom and is a threat to opponents in all positions. He is that teammate that is always there and working hard with a smile on his face. That attitude is contagious, our team feeds off that energy, we coaches do too. We are really excited to watch him compete this postseason. His recent success is an indication of all the work he has done until this point."
Gardner also pointed out John's growth in the program.
"Ndayambaje came with an exceptional work ethic, and ability to focus and commit to the things necessary to help success," Gardner said. "He has grown in his maturity as a competitor, his mental toughness and in his approach to challenges and setbacks. He has really grown as a leader."
John knows his collegiate wrestling career is coming to a close and he's ready to give it everything he has to advance to the national championships.
"I feel like everything I've worked for over the last several years is down to these next few weeks and I'm ready to go out and compete," John said. "I feel like I've prepared myself and that I'm wrestling as well as I ever have. I'm going to give it everything I have and I'm going to have fun."
Topics: Athletics, Student Stories