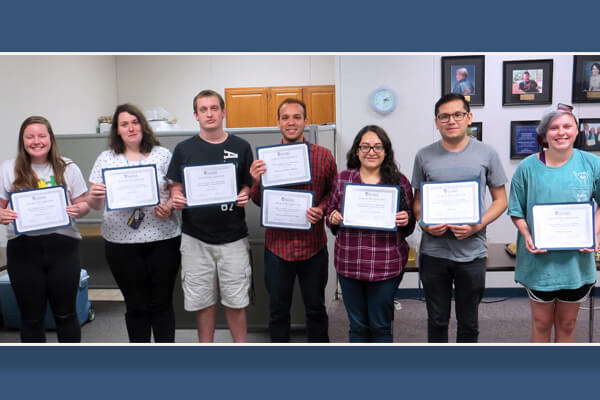 The University of the Ozarks' Jones Learning Center presented its 2017-18 tutor of the year awards during its annual reception, held on May 3.
The JLC provides academic support services for students with learning disabilities.  Tutors are scored by students and staff in each of the nine departments reflective of the Ozarks LENS program.  From those scores outstanding tutors are identified and recognized.
The recipient of the overall tutor of the year and business tutor of year for 2017-18 was Ohany Roman Blandon, a sophomore business administration major from Nicaragua.
Other tutor award recipients included, Olivia Pippin (education), Berenice Osorio (communication), Alec Mertin (math and physics), Tonya Palmer (biology and chemistry), Elias Loria (psychology, health and environmental studies), Stephanie Payton (fine arts), Catherine Varvel (humanities) and Hannah Oler (social science).
"Tutors are a vital piece to the academic success of students in the Jones Learning Center," said Julia Frost, director of the JLC. "This year they provided over 6,000 hours of weekly, one-to-one tutoring."
The JLC employees 125 student-workers each semester who support students as tutors, note-takers, writing assistants and readers."
Topics: About, Academic Support, Academics, JLC