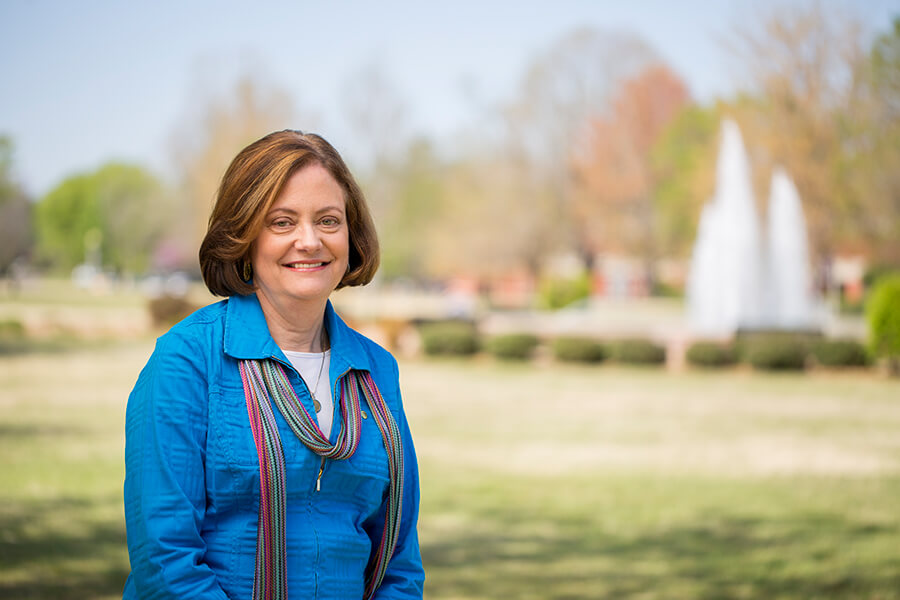 After three decades as a champion and advocate for students with learning disabilities, Julia Frost is retiring as the director of the Jones Learning Center at University of the Ozarks.
Frost, who has served as the director of the JLC since 1994, recently informed U of O officials that she will retire this June. Her 30 years in the JLC included a stint as director of assessment from 1986-91.
"I am extremely fortunate that for the majority of my career I have had a job that I consider to be my calling," Frost said. "It has been such a blessing to be involved in the lives of college students with disabilities and their families at such a pivotal time in their lives.  Watching scared freshmen with little self-confidence grow into college graduates who are ready to take on the world has been a joy beyond any I could have imagined in my life's work."
Frost said she will miss working with her colleagues and students in the JLC.
"I have had the privilege of working with JLC staff members who are dedicated, compassionate and skilled in working with our population of students," she said. "Our students become a part of our JLC family, and they remain so even when they leave Ozarks.  I am confident that will be the case for me as well."
University Provost Dr. Alyson Gill thanked Frost for her commitment to Ozarks and its students.
"Program directors don't often have the luxury of sowing organizational seeds, watching them grow, and then seeing their impact over the years. Julia has been able to do just that in her 25 years as the director of the JLC," Gill said. "Julia has positively impacted hundreds of students through her work in providing a nurturing, supportive environment in which to serve students with learning differences. Thanks to Julia and her staff's efforts, the JLC will continue to play a key role for years to come in assisting students who learn differently. I am grateful for her enduring commitment to our students and to the University community as a whole. She will be missed greatly and we wish her well in retirement."
Frost, who was the recipient of the University's Alvin C. Broyles Outstanding Staff Award in 1995, said she had been considering retirement for the past couple of years and felt the timing was right.
"It is bittersweet to announce my retirement," Frost said. "Besides the JLC staff and students, there are many, many staff and faculty across campus that I have loved having in my life since I began working here and who will continue to be dear to me in retirement. John and I are planning to continue to live in Clarksville, and while we are planning to travel, we plan to be back on campus for special events."
Frost worked eight years as a school psychologist in Arkansas public schools and two years as a music and English teacher. She has served as the president of the Arkansas School Psychology Association and as a board member for the Arkansas Association for Higher Education and Disability.  She served for two years on the Adult Topics Committee of the Learning Disabilities Association of America and has been its chair for the past five years. She is a nationally certified school psychologist and frequently presented at both state and national conferences.
Frost and her husband, John, have three adult children.
The Jones Learning Center is a comprehensive support program for students with documented learning disabilities, Attention Deficit/ Hyperactivity Disorder (AD/HD) or Autism Spectrum Disorder (ASD) with average or above average intellectual abilities.  It was established at U of O in 1971 as one of the first of its kind in the country.
Topics: About, Academic Support, JLC