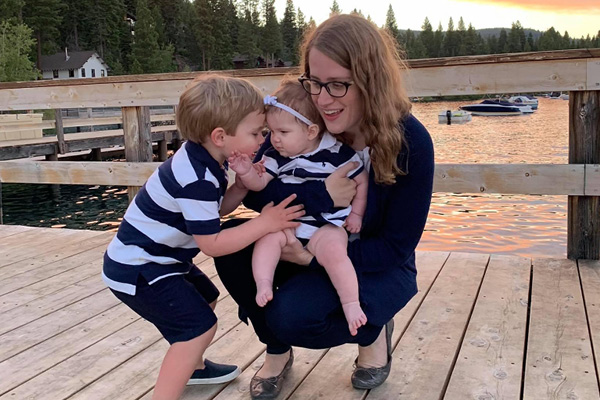 (Editor's Note: The 2020-21 academic year marks the 50th anniversary of the establishment of the Jones Learning Center at University of the Ozarks. In honor of this milestone, the University will be featuring alumni and current students of the JLC throughout the academic year.)
Courtney Taylor is proud to be a role model for young students with learning disabilities.
Taylor (pictured with her niece and nephew) used the services of the Jones Learning Center to graduate from Ozarks in 2009 and is now back in her hometown of Tulsa, Okla., working with students with learning disabilities as an assistant physical education teacher at her alma mater, Town & County School. The private school works with students with learning disabilities in grades 2-12.
"I love that I can be a good example and show them what they can do in life," said Taylor, who is in her 12th year at the school.  "I tell them that you can do anything you want and be successful at it. You can get a job and make friends by being nice and kind to others. I want them to see through me that they can be successful and happy in life."
Taylor's learning disabilities include hypotonia (low muscle tone resulting in articulation disorder, dysgraphia and motor delays) and central auditory processing delays. She was told throughout her younger years that she would never be able to achieve a college education.
"It took me five years to get a degree, but I did it," Taylor said. "I am so thankful for Ozarks and JLC for accepting me and making it possible."
Taylor said her JLC coordinator, Diana McCormick, now retired, was one of the keys to her success.
"She was really great at helping me write papers and helping me prepare for the tests," Taylor said. "She cared about what went on in my life beyond academics. I loved meeting with my coordinator every day and that made a big difference for me."
Taylor said some of her favorite memories at Ozarks included freshman and senior dinners as well as the Super Bowl parties at President Rick Niece's house. She served on the Campus Activities Board and was vice president for advancement on the Student Foundation Board. She has remained active as an alumna by serving on the University's Alumni Board of Directors from 2015-2020.
"I have so many great memories from Ozarks and I made great friends for life," she said. "Every time I hear the song, 'Eye of the Tiger,' it reminds me of the SFB song, 'Eye of the Eagle,' that we did for freshman orientation. And, I'll never forget President Niece's story about the bird legs when he pulled his pants leg up at all the freshman orientations."
Taylor said she loves her job, especially working with children and having summers off. She is quick to credit Ozarks and the JLC for her success.
"Ozarks pushed me to get out of my comfort zone more, not be shy and to have confidence," Taylor said.  "The JLC helped me learn what I needed to do to be successful with my learning disability. I know now that I can do anything if I can put my mind to it. Nothing is impossible."