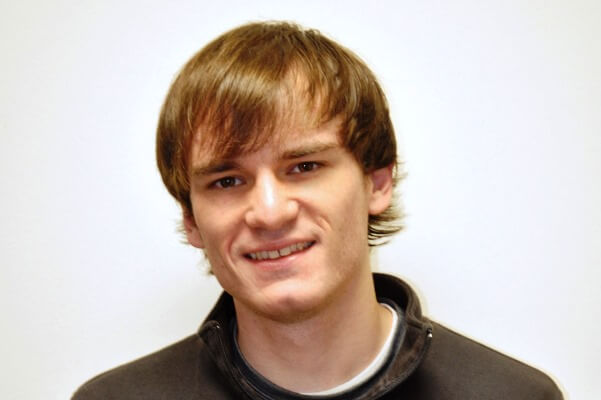 Clarksville, Ark. — Dustin James, a senior religion and philosophy major from Wickes, Ark., has had a paper accepted by the 2010 Southwest Commission on Religious Studies (SWCRS), scheduled for March in Texas.
James' paper is titled, "Moral and Cultic Law in Leviticus: A Dubious Distinction in the Debate over Homosexuality," and stems from the work he has done on his senior thesis project at Ozarks. He will read the paper during the 2010 American Academy of Religion Theta Alpha Kappa session during the SWCRS, which will be held in Irving, Texas, on March 12-14.
"It's a humbling experience to have people recognize your work and to be able to share that with others in the field," said James. "This will be a great experience for me for graduate school as well as professionally."
James, who is pursuing a minor in English at Ozarks, plans to attend graduate school and eventually teach on the college level.
Dr. David Daily, associate professor of religion, and Dr. Bill Eakin, professor of philosophy and German, have worked closely with James during his time at Ozarks.
"Dr. Eakin and I are very proud of what Dustin has accomplished in having his proposal accepted," Daily said. "The Southwest Regional Meeting of the American Academy of Religion attracts hundreds of religion scholars from Arkansas, Louisiana, Texas, Oklahoma, Kansas, and Missouri.  Organizers devote one section each year to showcase the work of three or four students, chosen from a competitive pool of applicants.
"Dustin's achievement says something about the quality of our students overall, and it especially says something about Dustin's hard work and how he has developed the intellectual gifts that God has given him.  I also think it helped that, with resources from the Humanities and Fine Arts Division, he was able to attend the conference last year and knew the quality of students he would be competing against.  Now that he is a presenter, this honor will obviously help to open doors to graduate schools, not to mention making him that much more competitive for financial aid and scholarships at the national level."
Topics: Religion