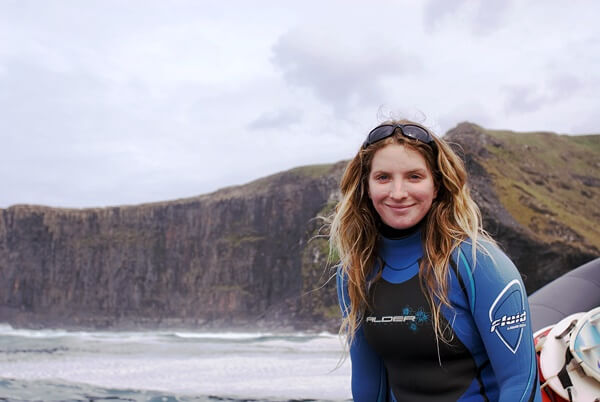 Internationally renowned big-wave surfer, artist, scientist and explorer Dr Easkey Britton will speak at University of the Ozarks on Wednesday, March 1, as part of the University's 2016-17 Walton Arts & Ideas Series.
The event begins at 6 p.m. in the Rogers Conference Center and is free and open to the public.
Britton's talk is titled, "Be Like Water: Reflections on Developing a Cross-Cultural Program for Women, Surfing and Social Good."
Dr. Easkey Britton, a five-time national surfing champion from Ireland who has channeled her passion for surfing into social change, will speak at U of O on March 1.
Ireland's five-time national surfing champion, Britton learned to surf when she was four years old and her life has revolved around surfing ever since. She went on to earn a Ph.D. in marine environment and society and has channeled her passion for surfing into social change.
She is the co-founder for the non-profit Waves of Freedom, established on the belief in surfing as a powerful medium for creating positive social impact and empowerment, especially for women and girls in areas of the world where it is not always easy to follow one's passion.
Britton has surfed in leggings and a sports hijab with Iranian women and been involved in a surf-related Papua New Guinean initiative for women's rights. A research fellow at the National University of Ireland in Galway, Britton also spearheaded the world's first global Surf and Social Good Summit in Bali in 2016.
An inspirational public speaker, Britton's work and unique connection to the ocean led her to being asked to talk at TEDx Dublin in 2013 about the power of the ocean to connect. She has presented her work at international conferences and published numerous book chapters and articles in peer-reviewed journals.,
As a professional surfer, her pioneering big-wave performance at Mullaghmore on the west coast of Ireland earned her a Global Billabong XXL nomination.
Topics: Community Events