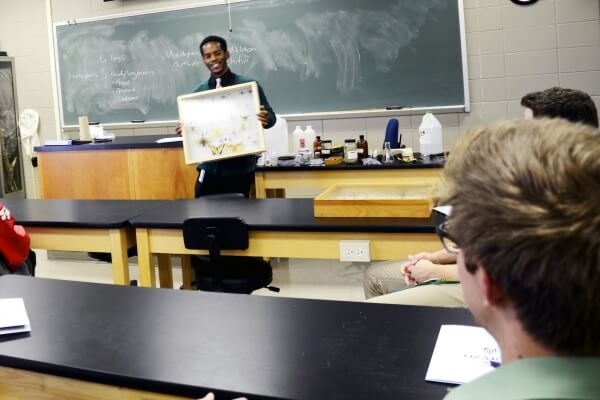 University of the Ozarks Assistant Professor of Biology Dr. Warren Sconiers was just a child when he discovered he had a unique interest in nature's smallest creatures.
"I have always been interested in ecology and entomology. As a child I would play with plants and insects out in the yard and I would even get distracted by bugs when playing sports," he said. "It wasn't until my undergrad when I took my first entomology class and met entomologists and ecologists that I knew I had found my life-long interest. I later found career opportunities in entomology and continued from there."
Sconiers joined the Ozarks faculty in August after spending the last two years as a postdoctoral fellow in the Department of Entomology at North Carolina State University.  The native of California earned his undergraduate degree from the University of California at Irvine before completing his Ph.D. in entomology from Texas A&M in 2014.
Dr. Warren Sconiers joined the Ozarks faculty in August as an assistant professor of biology.
Sconiers' specialty is studying how plants and insects interact and influence each other. He has conducted extensive research on such topics as, the effects of drought on trees, how plant communities recover after fire, invasive plant control, and predator-prey interactions.
"I am more than excited about speaking with students about what entomology has to offer," he said. "There is so much you can do in this field, ranging from microbiology and controlling mosquitos so they can't bite people, to pest control working for the government, or even pharmaceutical companies."
After earning his Ph.D. and working at large state universities, Sconiers is excited about teaching at a small, private liberal arts university.
"A university like Ozarks definitely fits my teaching philosophy," he said. "I believe that students need to interact with each other and not just listen to the instructor. With the small classes, students spend more time in groups interacting and discussing material, and my classes are more engaging compared to standard lectures. Students feel open to asking questions any time in class and we tend to focus on students learning the material rather than how much we can cover. It is much more difficult to have this type of emphasis at larger institutions."
Sharing his love of science and being a mentor to students is a passion for Sconiers. While at NCSU, he helped start an undergraduate organization called SEEDS (Strategies for Ecology Education, Diversity and Sustainability) that promoted student diversity in several of the sciences.
"Exposure to a variety of sciences and related careers through hands-on activities is a great way to get students inspired in the sciences," Sconiers said. "Also, sharing stories of relatable individuals who are engaged in the sciences is crucial. This highlights the importance of diversity, by having different types of people engaged in the sciences not only provides more variety in thought, but also communicates that anyone can cultivate a passion for science, which is the absolute truth."
He has already been impressed with the students he has interacted with at Ozarks.
"Students here are very engaged and bright students," he said. "I have several students already who are interested in entomology, biology, conservation, and the careers these sciences have to offer. I am excited to meet more students and help them achieve their goals.
Outside of work, Sconiers enjoys a variety of interests, including health and fitness, sports, martial arts and creative writing.
Topics: Biology