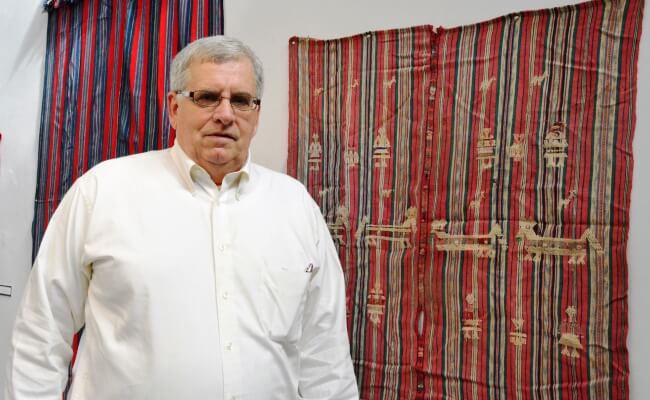 Dr. William Clary, professor of Spanish at University of the Ozarks, will present his collection of traditional Andean and Maya textiles as part of the University's Artist of the Month Series.
The exhibit will be on display in the Stephens Gallery from Aug. 22 through Sept. 26. There will be a reception to meet the artist from 5-6 p.m. on Friday, Sept. 22, in the gallery.
Clary, who has taught at the University since 2006, said the collection of woven items are a part of a much larger collection of woven indigenous textiles he collected in Bolivia and Guatemala during trips he took to both countries between 1980-85.
"My purpose in collecting was to acquire pieces that were traditional in appearance and that reflected styles from a previous era, hence the emphasis on woven items that do not contain synthetic dyes," Clary said. "Many of these pieces were purchased 'on site' or at the village where they were created. Others were purchased in antique stores specializing in indigenous textiles after long and careful perusal and considerable bargaining. Although I have tried to provide the origin of each item in this collection, in some cases it was impossible to ascertain the precise village or region the piece originated from. This was more often the case with items from Bolivia."
Clary said he struck by the diversity and aesthetic creativity inherent in the clothes and hand woven textiles produced by indigenous peoples in both Bolivia and Guatemala.
"Acquiring some of these pieces was a bit of an undertaking," he said. "Asking an indigenous woman in a remote village who scarcely spoke Spanish to sell one of her woven possessions was often met with distrust and rejection."
The Stephens Gallery, located in the Walton Fine Arts Center, is open to the public and there is no charge for admission. The gallery is open from 9 a.m. to 4 p.m., Monday through Friday, when classes are in session. For more information, please contact the University at 479-979-1349.
Topics: Community Events, Exhibit