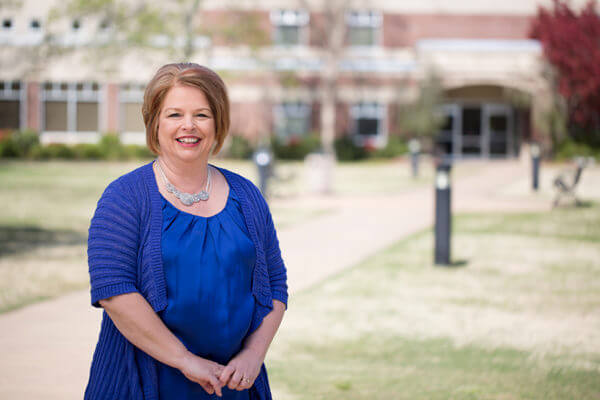 The University family mourned the passing Friday morning of beloved friend and colleague Debbie Williams, an academic support coordinator in the Jones Learning Center.
For the past 34 years Williams served Ozarks and its students in the JLC, where her infectious smile and nurturing spirit were on display on a daily basis. She is remembered for her tireless commitment to her students, her devotion to family and friends and her unwavering faith.
U of O President Richard Dunsworth said, "While our campus and extended Ozarks family mourn deeply the loss of our friend and colleague, Debbie Williams, we also rejoice in the certain knowledge that her spirit is alive and bright in the countless lives she touched and made better. Debbie, her husband Darrell, and their children, Nathan and Kaitlyn, are all deeply woven into the fine fabric that is Ozarks, and we extend our deepest sympathy to her family. Ozarks is better because of this dear family."
JLC Director Julia Frost said Williams was "an exemplary coordinator who was dedicated to her students and always looking for more effective ways to work with them."
"It was obvious that Debbie genuinely cared for her students' academic and personal successes," Frost said. "Her students saw her office as a welcoming space and knew that she accepted each of them for who they were. She worked to mold them into independent, responsible young adults. She made a real difference in the lives of our students."
Frost said she and her staff heard from many of Williams' former JLC students on Friday.
"We have received so many calls, emails, and texts from many of her former students and their parents," Frost said. "It feels like they have lost a family member. We will never be able to quantify the positive influence that Debbie had in the lives of so many. I feel certain that she not only changed lives, but she probably saved several."
Funeral arrangements will be announced at a later date.
Debbie Williams dedicated 34 years to serving students in the Jones Learning Center.
Topics: JLC