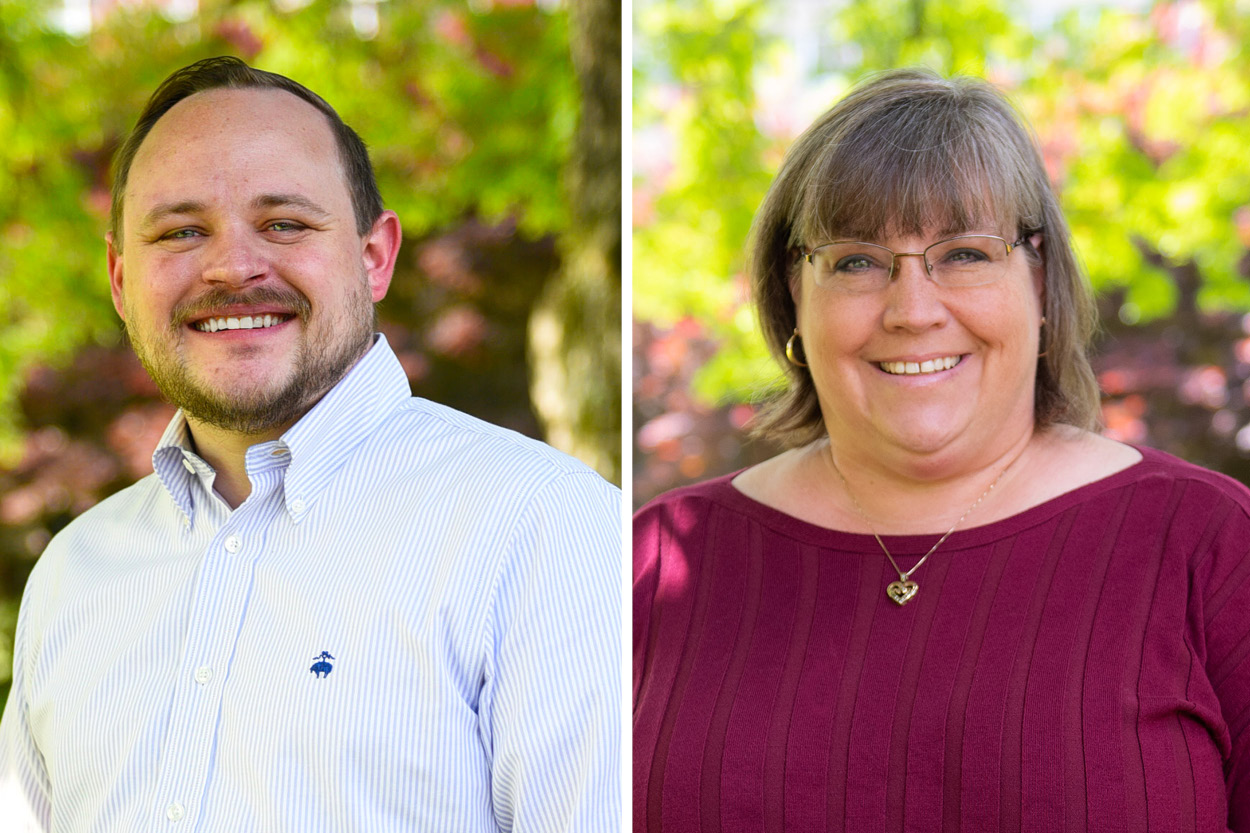 University of the Ozarks Office of Admission staffers Joey Hughes and EmmaLee Morrow have each received promotions, University officials announced this week.
Hughes, who has served as director of admission operations since 2020, became the University's new executive director of admission, effective June 1, 2021. Morrow will serve as marketing and enrollment operations manager, starting July 1, 2021.
Hughes, a 2010 graduate of Ozarks, joined the admission team in 2011 and was named assistant director in 2014 and associate director in 2017.
"As a student from Mulberry, I knew there was a special community at Ozarks. It quickly became my new home and grew me in ways I knew I needed and in ways I never thought possible," Hughes said. "Professionally, sharing this community with the greater world has become my passion. I have gotten the opportunity to see and assist the transformation of Ozarks from a mostly regional college to a global force in higher education. I am excited to continue to bring innovation and increased enrollment to Ozarks so that the institution can continue to make waves in the industry and support growth in the River Valley."
In his new role at Ozarks, Hughes will lead the day-to-day admission operations for the University.
"Joey's commitment to recruiting students from Arkansas and beyond is admirable," said Amy Lloyd, interim vice president for marketing and enrollment. "He has been a crucial part of our enrollment success over the last four years. We are excited to watch him thrive in this new role and lead our admission team to achieve great things."
Hughes also serves as vice president of admission administration for the Arkansas Association of Collegiate Registrars and Admissions Officers (ArkACRAO).
Morrow has worked at the University for 25 years, including the past 15 years in admission where she served as office manager and campus visit coordinator. She also leads the University's Student Ambassador program and in 2016 was presented with the Arnold G. Sims Outstanding Support Staff Award.
"EmmaLee has been a collaborative leader at Ozarks for the past several years," Lloyd said. "She continues to shape the campus visit experience and contribute to enrollment growth. Under her leadership, the Student Ambassador program has grown beyond the campus visit to include social media ambassadors and an energetic student-led call center. EmmaLee is a compassionate team member and genuinely represents the mission and values of Ozarks every day."
Morrow called Ozarks a special place.
"I am fortunate to be able to serve this University," she said. "At Ozarks, our faculty, staff and students genuinely care about each other, and our leaders encourage us to grow both personally and professionally. Having the opportunity to be a small part of each other's lives is a true blessing. In the marketing and enrollment division, our teams are very supportive of one another, and we will continue to share the University's mission and core values with our prospective students and their families."
Topics: About