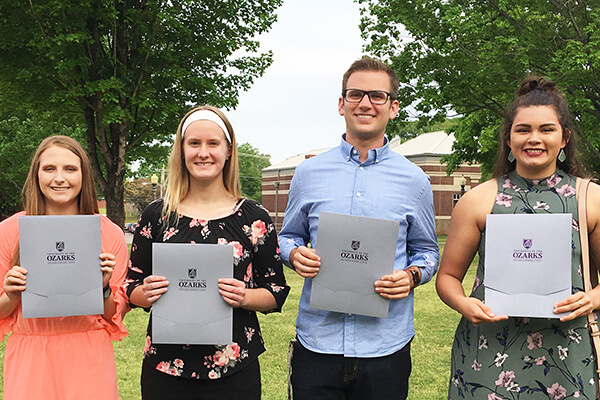 University of the Ozarks senior Jae Lynn Huckaba's essay titled, "Regnant Populus," took top honors in the University's 13th annual Earth Day Essay competition, announced during Honors Day.
Huckaba, an English and Spanish major from Forrest City, Ark., won the $400 first-place Workman Award for her essay. Prizes for the top four places were donated by long-time Ozarks supporters Dr. Wayne and Betty Workman.
Huckaba's essay examined the efforts that the city of Clarksville is doing to combat environmental threats and to promote sustainability, such as the Scenic Hill Solar Plant, the Food for Thought Garden, and the expansion of the Spadra Creek Nature Trail.
Huckaba wrote: "Though Clarksville, Arkansas, only occupies a small, rural portion of Arkansas, and an even smaller portion of the United States, the city's citizens and its recent initiatives are proving that no challenge is too insurmountable for a united community to overcome. To ensure environmental progress and effectively address contemporary environmental challenges, citizens of the United States must begin taking initiative and accept their responsibility in promoting positive environmental change. Though many European nations have proved their environmental competence and willingness to foster change, the United States does not have to search as far as another continent for inspiration. The people rule, and regarding progress towards addressing contemporary environmental challenges, the people of small-town Clarksville, Arkansas, are setting an example worthy of emulation."
The second-place prize of $300 went to Erika Henderson's essay titled, "Our Environmental Progress." Third place went to Dax Clark's essay, "Improvements Toward a Greener Earth," and fourth place went to Jasmine Rosales' "Essay in Honor of Earth Day."
Event organizer Brian Hardman, professor of English, said 16 students submitted essays in this year's contest. The judges for this year's competition were Dr. Eddie Ardeneaux, Debbie Eldridge, and Dr. Warren Sconiers.
Topics: Academics, Environmental Studies, Student Events, Traditions