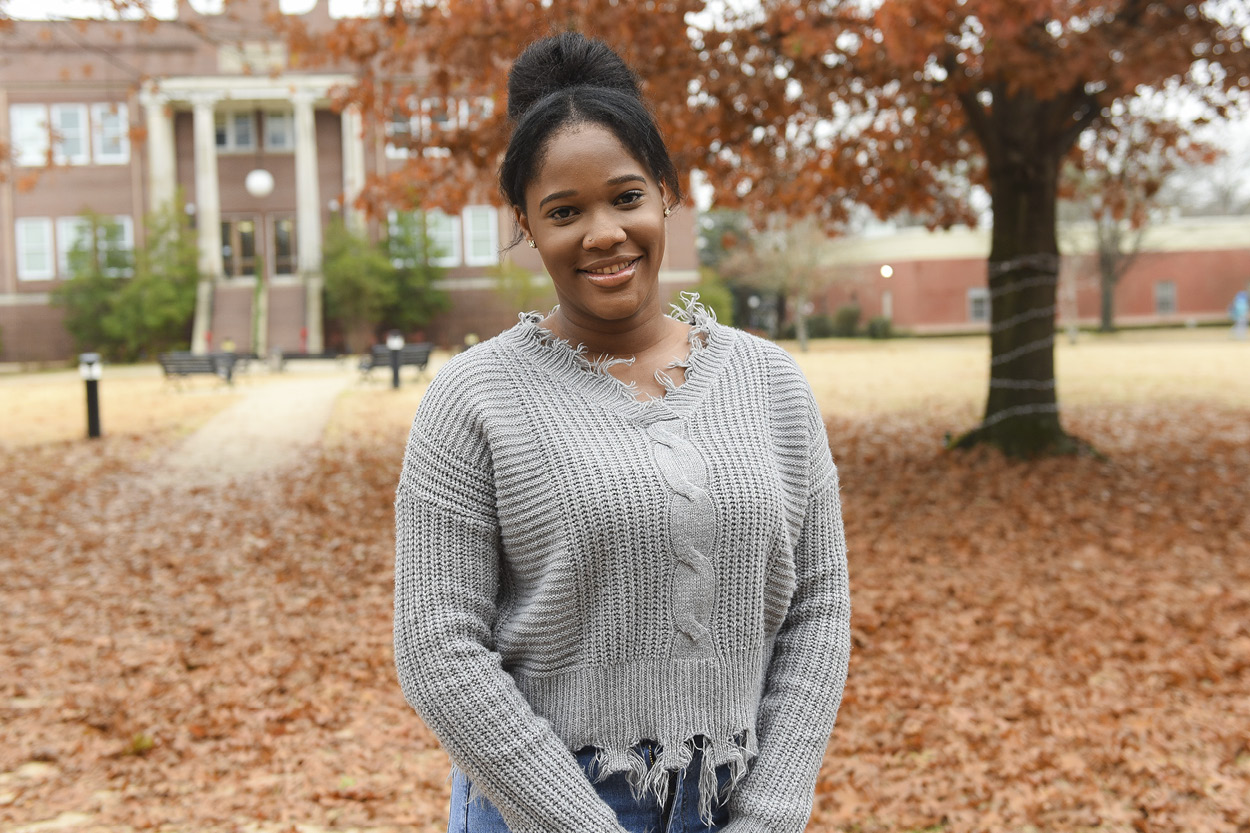 When Cassidy Rolle walks across the stage to receive her diploma Saturday at the University of the Ozarks' 2022 Fall Commencement, she will be setting a shining example for her three younger siblings.
Rolle, from South Andros, The Bahamas, will graduate from Ozarks with a business administration degree and with the highest of academic honors, Summa Cum Laude (cumulative grade point average of 3.85 or higher). She will be the first in her immediate family to graduate from college, serving as a role model for her 18-year-old sister and two younger brothers, ages 10 and 6.
"We often don't believe something is possible until we see it being done," Rolle said. "As the eldest of four children, there was some pressure with my siblings looking up to me. However, I am ecstatic to have reached this goal. Not only is it a win for myself, but also my family and community. I want my siblings and others in my hometown to know that the world is filled with endless possibilities and where you come from should not limit who or what you can become."
Rolle said she learned about U of O from a scholarship program in The Bahamas and that the University turned out to be a perfect fit for her.
"What made Ozarks perfect for me was the school's location and class size," Rolle said. "I grew up in a small community and had a graduating class of 18 students. I just felt like I would get lost in a bigger school. Here at Ozarks, I am more than just a number; professors know my name and face. I believe that had a positive impact on my academic performance."
Rolle was part of the Public School Scholarship Program, a collaboration between Ozarks and the Bahamian Ministry of Education.  This scholarship provides funding for public school students in the Bahamas to attend Ozarks and other universities in the United States.
"This scholarship helped lift a high financial burden off of my parents," Rolle said. "I am extremely grateful to be a PSSP recipient as attending university abroad was highly unlikely without this scholarship."
While adjusting to college in a foreign country led to some challenges, Rolle said she became more comfortable when she became involved in student organizations.
"The whole experience has been eye-opening," she said. "I wanted to go to college abroad to see more of the world and what it has to offer. Ozarks has been great in showing me so much of the world through the cultural diversity here on campus. However, it was tough adjusting to a new country while being away from my family. It got easier once I became a part of a family on campus. I found a family with the Caribbean Student Union, Black Student Association, the former Eagle Productions, and the residential life staff."
Rolle said working as a resident assistant was one of her most rewarding experiences at Ozarks.
"This role allowed me to see college from a different perspective," she said. "In this role, I found a purpose greater than myself; I got to be a part of shaping the college experience of incoming freshmen. I was able to meet and build connections with students on a personal level. Overall, my experience as an RA was my way of giving back and adding value to the Ozarks community."
Rolle said her business professors at Ozarks became impactful mentors for her.
"All of my business professors has been equally impactful in shaping my college career," she said. "Whether it was through advising, encouraging me to pursue an internship, recommending me to be a tutor, or recognizing my potential and holding me to a higher standard."
Rolle also credited the University's LENS program for providing her a well-rounded education. In addition to her business administration major, she minored in economics, Spanish and sustainable agriculture.
"I had always had an interest in Spanish and thought it make sense to continue building on the foundation I had started in high school," she said. "As for sustainable agriculture, a professor suggested this minor, and after taking the first class I thought this area was interesting. Also with my home country trying to build a presence in farming and agriculture, it wouldn't hurt to have some sort of knowledge in this field. In terms of future career plans, I have an interest in working in revenue management or financial advisory. Being able to speak another language makes for a more marketable candidate."
Rolle said her best advice for young Bahamian students about to enter college is to keep an open mind.
"Sometimes your degree plans change as you learn more about yourself, so it is okay if you do not know exactly what you want to study," she said. "If you do plan to attend a college abroad be prepared for culture shock. Some things will be different from what you are accustomed to, but I urge you to be respectful of others and their culture. Also, be sure to choose a university that aligns with your values and beliefs, prioritizes their students' well-being, and most importantly offers your desired field of study."
Following graduation, Rolle said she plans to move to Michigan where she has family and seek employment in the financial planning field. She also plans to earn an MBA in finance and describes her dream job as combining business and travel.
As she leaves Ozarks, she feels ready and prepared for her next chapter.
"Ozarks has helped me become more confident in my abilities," Rolle said. "The campus involvement has made me more social and empathetic to situations affecting our campus directly and indirectly and the coursework has challenged me to develop critical thinking and analytic skills. My time at Ozarks can be described as unforgettable. The last four years have shaped the way I see the world and has prepared me to live life fully."
Topics: About, Business Administration, International, Student Stories