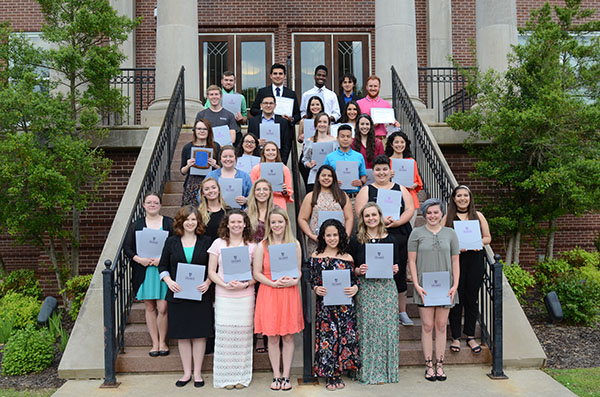 University of the Ozarks presented its top division and university academic awards on May 2 during the 61st annual Honors Day ceremony, held in the Walton Fine Arts Center.
Hurie Award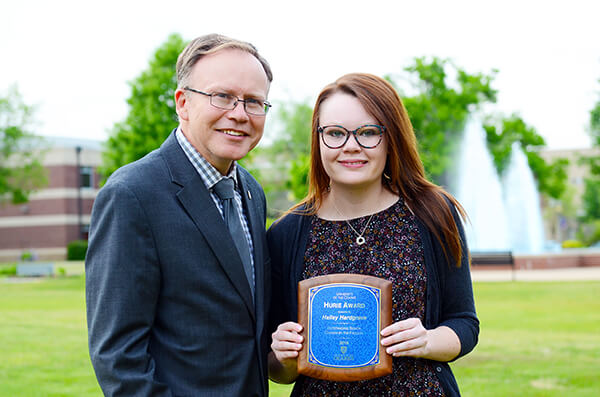 Hailey Hardgrave, a senior biology major from Hartman, Ark., was presented the Hurie Award as the outstanding member of the Class of 2018 by University President Richard Dunsworth. Named for former Ozarks President Wiley Lin Hurie, the award is selected by the faculty and given to the outstanding member of the senior class.
Hardgrave serves as the president of both the Ozarks Biological Society and the University chapter of the Tri-Beta national biology honor society. She has made the U of O President's List academic honor roll in each of her semester's at Ozarks. She has completed two summer internships at Arkansas Children's Hospital and has worked as a clinical research assistant at the hospital. Hardgrave will pursue a medical degree at the University of Arkansas for Medical Sciences (UAMS) in the fall.
Hardgrave was also named the Outstanding Senior in Biology.
Honors Day Recipients
Other Honors Day recipients for 2018 included, Roseanna Ezell (Outstanding Student in Accounting), Kelli Palmer (Outstanding Student in Business Administration), Miguel Cuellar (Outstanding Student in Economics), Dalton Schultz (Outstanding Student in Management), Chance Silvey (Outstanding Student in Marketing), Kelechi Nkalari (Outstanding Service Award in Business), Ariana Lujan (Outstanding Student in Education), Maranda Watson (Outstanding Student in Secondary Education), Stephanie Alderson (Outstanding Student in Elementary Education), Stephanie Payton (Amanda Alders Pike Award in Art), Aubree Sisson (Imogen Ragon Award in Art), Azalia Molina (Outstanding Student in Art), Berenice Osorio (Outstanding Student in Communication and the Robert Berry Fulton Award in Communication), Luis Alfaro (Robert Berry Fulton Award in Communication) and Andres Jimenez (Robert Berry Fulton Award in Communication).
Also receiving awards were, Jake Sawyer (Outstanding Student in English), Haley Hanks (Outstanding Student in History), Megan Ahne (Outstanding Student in Music), Emilie "Weave" Williams (Outstanding Student in Philosophy), Catherine Varvel (Outstanding Student in Religion), Jae Lynn Huckaba (Outstanding Student in Spanish), Kimberly "Layce" Day (Outstanding Student in Theatre), Valeria Robleto (Outstanding Senior in Chemistry), Nicole Wood (Outstanding Student in Health Science), Jelena Petrovic (Outstanding Student in Mathematics), Nicole Justice (Outstanding Student in Political Science), Elias Loria (Bachelor of Science in Psychology Award), Bahar Yapal (C. Wright Mills Award in Sociology), and Haley Deatherage (Outstanding Environmental Student Award.)
Topics: Academics, Student Events, Traditions