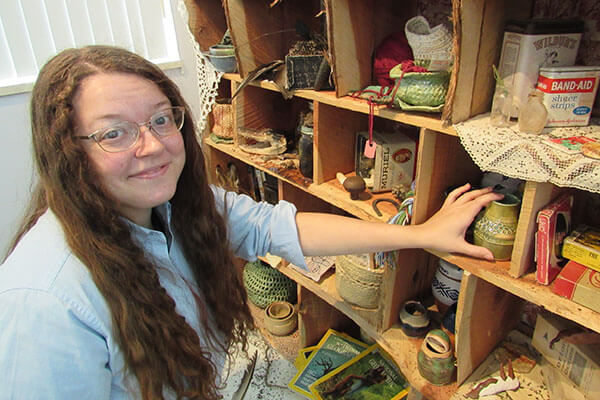 University of the Ozarks art major Aubree Sisson will present her Senior Art Show exhibit titled, "Back to my Roots," from Nov. 7-13 in the Stephens Gallery.
Sisson will give an artist talk from 7-8:30 p.m. on Monday, Nov. 12, in Baldor Auditorium. There will be a reception to meet the artist from 4-5 p.m. on Saturday, Nov. 10, in the gallery, which is located in the Walton Fine Arts Center.
Sisson, a senior from Paris, Ark., said her exhibit was inspired by the lifestyle and culture as well as the flora and fauna of her life-long home state of Arkansas.
"My works reflect the journey I have had in life, as well as the people I have met and the things I have seen," Sisson said. "Connections to family and life events are symbolized within my works through the use of found objects and items from nature."
Sisson utilizes a variety of media, including ceramics, photography, cyanotype printing and assemblage to create arrangements that spark memories and emotions.
"I often use imagery of Arkansas native fauna, such as small mammals and insects, within my work," she said. "Having lived here my entire life and having the opportunity to work within the Arkansas State Parks has shown me much more of what the Ozarks have to offer. I love to forage for supplies, plants and leftover animal bones, while exploring the Ozarks' forests and streams. Bringing natural elements into the gallery allows for me to show viewers aspects of the state that they may have not had the opportunity to see otherwise."
Sisson's clustered 2D-wall piece titled, "Little Wonders," includes "many moths, plants, and other images from around the state that I hope inspires others to get outdoors and see the beauty of the flora and fauna of this area."
Her subtle use of symbolism ties back to different moments within her  life and the slowed down lifestyle of rural Arkansas.
"My crochet works imply the passing of knowledge from one person to another since crochet was taught to me by my grandmother when I was very young," she said. "'Life Goes On' is a piece of mine that contains my crochet works, but also depicts nature taking over a space reminiscent of an old cabin. I arranged the items within this piece to create a sense of a lived-in space that has been forgotten."
"Back to my Roots," was created to convey nostalgia as well as the passing of time.
"This show is a culmination of my life and everything that I have experienced within my lifetime," she said. "Accumulation and layering objects and images allows me to show my memories and life experiences all within a single space. I symbolize everything from the people who entered my life, to those who left, and the experiences that I grew from. Without my memories and experiences, I would not be who I am today. In a way, this body of work took 22 years to complete and is a culmination of my life thus far."
Topics: About, Art, Community Events