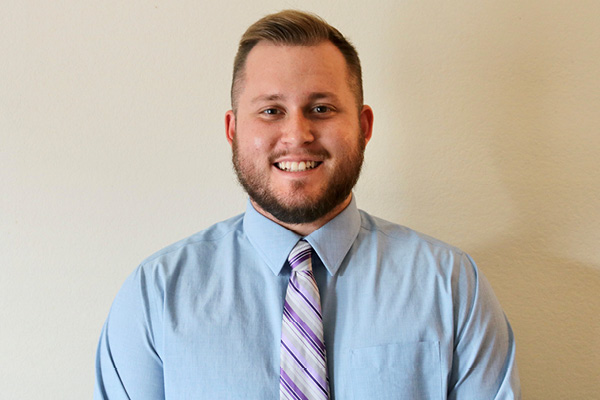 Jake Holland, a 2020 graduate of University of the Ozarks, is returning to his alma mater as the associate director of alumni engagement. He will begin his new duties on Oct. 25.
A native of Houston, Texas, Holland earned a degree in communication studies with Summa Cum Laude honors at Ozarks.  
Holland will serve as a primary liaison between Ozarks and its nearly 8,000 known alumni throughout the world. He will also assist in the University's fund-raising efforts and take a lead role in alumni events such as Homecoming, Alumni Board of Director meetings and alumni gatherings.
"When I was a student at Ozarks, I prided myself on wearing multiple hats," Holland said. "My major was in communications in RTV and a minor in environmental studies and theater. I was a baseball player, radio show host, broadcaster, student ambassador, residential assistant, and took part in several theater productions. I hope to use this mixed background to help me connect with our wonderfully diverse alumni from around the world."
Brian Henderson, director of annual giving and alumni engagement, said,  "I am excited to have Jake join our alumni engagement team. It was evident from visiting with Ozarks faculty and staff that Jake would be a great fit. Jake is young, energetic and ready to hit the ground running in building connections with our alumni. It is critical that we keep all of our alumni engaged and Jake will be the perfect person to spearhead that charge."
As a student at Ozarks, Holland was part of a team that won the 48-Hour Film Project and also received the Robert Berry Fulton Award as the outstanding student in communication.
Holland most recently worked in sales as a logistics account executive for Total Quality Logistics in Rogers, Ark.  He said he is excited about returning to the U of O campus.  
"I wanted to come back to a welcoming community where I know I would be pushed by those around me," Holland said. "I've always wanted to work in an environment where I was supported by those I work with, and my time as a student proved Ozarks to be that community. I can't wait to begin working with our alumni and friends to help the University reach even greater heights."
Outside of work, Holland is an avid disc golfer, competes in slow pitch softball and enjoys listening to podcasts.