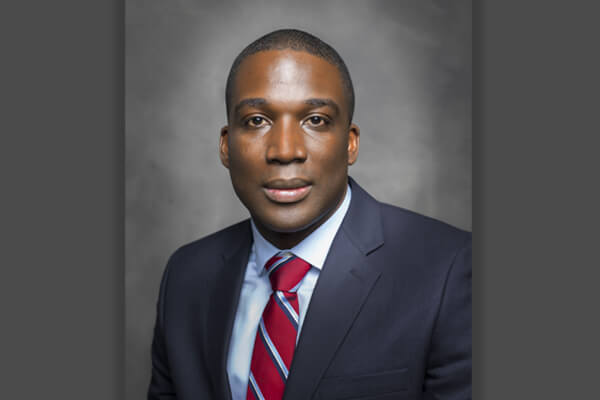 Reggie Hill has been promoted to vice president for marketing and enrollment at University of the Ozarks, according to University President Richard Dunsworth.
Hill, who has led Ozarks to record enrollment growth since joining the University in 2016, previously served as the assistant vice president for advancement and director of enrollment management. His promotion becomes effective on July 1.
"Reggie has been a wonderful addition to the Ozarks team," Dunsworth said. "Under his leadership in implementing key sections of the strategic plan adopted by the board of trustees nearly three years ago, the University has experienced unprecedented enrollment.  The growth was achieved by designing and executing a sound enrollment management strategy. I am excited and optimistic to see how Mr. Hill's efforts continue to impact the students of University of the Ozarks."
In his new role, Hill will oversee admissions, financial aid, marketing and athletics. Under his leadership, Ozarks enrolled an all-time high 755 students during the 2017 Fall Semester, a 29 percent increase since 2013. Enrollment is expected to top 850 students this fall.
"It's been a pleasure to serve the University these past two years and I look forward to working with my colleagues to continue the success we've had," said Hill. "I knew when I joined Ozarks that it had the potential to reach its enrollment targets. Thanks to the hard work of a lot of people throughout this campus, we have been able to reach what was a three-year milestone in 18 months. I want to continue to build relationships in admissions, implement strategic and measureable marketing techniques and enhance our athletic program to help Ozarks reach its full potential."
A native of St. Petersburg, Fla., Hill previously served as assistant vice president of enrollment at Saint Leo University in Florida. He earned both his undergraduate degree and an MBA from Saint Leo University.
Hill started working in university admissions right out of college and quickly realized he had found his calling.
"Higher education gave me the opportunity to rise out of my economically depressed community. It gave me the opportunity to define myself," Hill said. "Therefore, it has been my mission to ensure that all students who desire to attend college have access and an opportunity to receive a college education."
He also served as director of undergraduate admissions at Saint Leo and as director of admissions and enrollment services at Florida Polytechnic University.