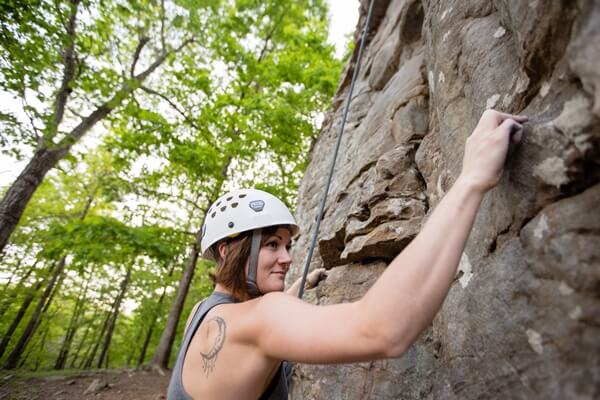 Breanna Hiatt has taken full advantage of the liberal arts curriculum at University of the Ozarks to find her true calling.
The senior from Russellville, Ark., entered college as a pre-medicine major and changed to education before deciding that her love of outdoors and nature would be a great fit for environmental studies. Now she is excited about seeing where a major in that discipline along with minors in biology and outdoor leadership will lead her.
"As somebody who has tried a little bit of everything, I think it's really important that if you have something you think about pursuing, express that and take the steps to at least try it out," Hiatt said. "At Ozarks you're encouraged to explore a lot of different areas of study. That's how I discovered exactly where I was supposed to be."
Breanna Hiatt, a senior from Russellville, Ark., has been active in the Ozarks Outdoors program since stepping on campus as a freshman.
An avid rock climber and outdoor enthusiasts, Hiatt has been involved with the Ozarks Outdoors program since stepping on campus. This past summer, the Ozarks Outdoors staff helped her secure an internship with Camp Crossed Arrows, a Girl Scout camp in Floral, Ark. It was there that she was able to combine her passion for the outdoors with her love for working with children.
"I worked as the climbing and hiking specialist and it turned out to be the perfect blend of teaching and being outdoors with kids?two things I love," she said. "This was a new position so they essentially handed me this program and allowed me to build it from the bottom up."
Hiatt enjoyed developing creative ideas to spark the children's interest in climbing and hiking.
"I helped create a lot of the games that the kids played, including a safari scramble game where we would hide safari animals all over the climbing wall, and they would have to climb up and collect them," she said. "It was great because they had a really good time going up the wall, but they were always scared coming down. The game was a really good way to distract them and it also helped me develop some communication skills and leadership skills toward teaching younger children."
Hiatt quickly learned that she had a knack for working with children.
"Working at the camp got really emotional at times. They were such a small group of girls, which meant that we would become so attached to them," she said. "They're at that age when they're so impressionable, and we were able to get so personal and learn from each other. Some of the girls in the horse-riding program put on a rodeo on the last day and they were trying so hard to impress us. We actually had to put glasses on because we started crying. These girls were just so amazing. I've never seen 12-year-old girls doing the stuff that they did."
Hiatt credits her advisor, Environmental Studies Professor Dr. Kim Van Scoy, for helping her grow and develop as a leader on campus. Hiatt serves as president of the University's Planet Club and also is a student representative on the Clarksville community's Spring Greening Festival.
"In my time here at Ozarks, I've gone through a lot of ups and downs, but Dr. Van Scoy has always been there to talk to me," Hiatt said. "Academically, she's always been someone I could count, and she's helped so much in my work with the Planet Club. I've come to her with so many questions and she's the type who will never give me the answer. It's more about her guiding me to find the answer myself, which I really appreciate because it allows me to figure out solutions for myself."
Hiatt has set some lofty goals for her senior year in regard to the Planet Club and Spring Greening Festival.
"I want the Planet Club to make more of an impact on campus by improving the recycling program and making it something that people talk about," she said. "I'd also like to improve the gardening program and start a club specifically for the campus garden, making it something the entire campus can get excited about. I also have a lot of goals for the Spring Greening Celebration committee, and I hope to reach out to the Clarksville community to make it more of a collaborative and joint effort."
Being a part of the Ozarks Outdoors program also been influential in Hiatt's development as a student and person. In November she will take part in the annual Association of Outdoor Recreation and Education (AORE) conference.
"Ozarks Outdoors has helped me tremendously in developing my skills, specifically with what I want to do with teaching," Hiatt said. "They've really nurtured my leadership goals, and they're even paying for me to get a certification that's really important for me. Even outside of the trips, they take me and other students out and help train us and teach us different skills, which isn't really something they're doing for their job, but more as a friend. I don't think I would've received opportunities and relationships like these if I had attended a different college."
Topics: Biology