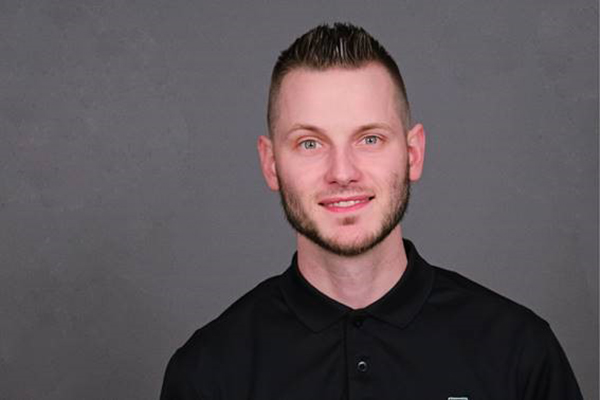 University of the Ozarks Network Manager Ethan Hefley has been named the recipient of the 2020 Dr. Rick and Sheree Niece President's Above and Beyond Award.
U of O President Richard Dunsworth made the announcement to the campus community on Monday during his weekly President's Standup meeting, held via Zoom. The award is presented to an employee selected by the president based on service that has surpassed what is required and expected for that academic year.
Hefley, who has worked at Ozarks since 2018, was instrumental in the University establishing an innovation hub this academic year.
In announcing the award, Dunsworth said, "In addition to performing his job at an exemplary level, Ethan demonstrates an extraordinary commitment to his University community as well as to the general public."
"Last summer when conversations began about creating an innovation hub, makers space, student friendly technology interface, Ethan leaned into the conversation and all but took the baton, repeatedly asking for the opportunity to create. Working with Vickie Alston, Greg Stone and others, and with the financial support of the Walton Foundation, we now have an emerging innovation hub."
Dunsworth also praised Hefley's efforts in creating 3D-printed ear guards for healthcare workers during the Covid-19 pandemic.
"In these trying times, Ethan took it upon himself to find a way the university could contribute and he put the innovation hub to work," Dunsworth said. "He found the plans to 3-D print ear guards for hospitals and medical practices employees in our local community to make their work a bit more comfortable by taking the pressure from their ears caused by wearing masks all day. Ethan's service efforts are far-reaching, and requests from different counties have been made. In sum, Ethan has made a difference at our University, exemplified the mission of the University, and has positively impacted the people in our community. He has gone above and beyond."
Rick and Sheree Niece served as president and first lady of Ozarks from 1997 to 2013. In announcing his retirement, President Niece stated: "Sheree and I are grateful to so many for so much. These years at Ozarks and in Clarksville gave us more than we have given, taught us more than we have taught, and honored us more than we deserve."
Topics: About