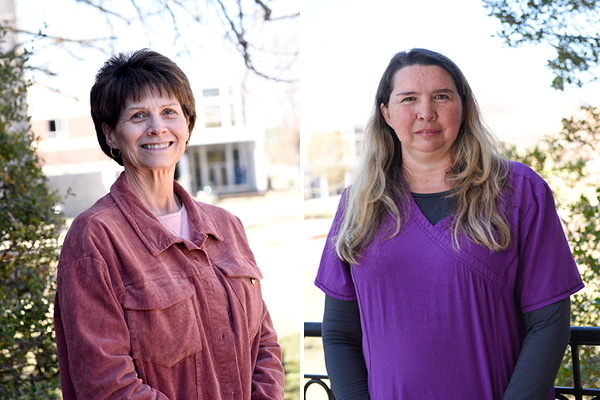 University of the Ozarks has welcomed two new employees to the campus family in recent weeks — Terry Hatcher and Amanda Bohannon.
Hatcher (pictured, left) joined the Office of Advancement and Alumni Engagement as the coordinator of records and data services earlier this month. Bohannon (pictured, right) joined the University's housekeeping staff in late February.
As coordinator of records and data services, Hatcher will provide support and service to the Advancement office through maintaining the integrity of the development fundraising data and assisting the director of operations, data & research.  Hatcher has a degree in business administration from Arkansas Tech University and previously served as the supply chain manager and replenishment manager for Lipman Family Farms. She and her husband, Wayne, live in Clarksville and have four children and six grandchildren.
Bohannon previously worked for Ozarks and returned in a temporary position before being hired full-time. She is a graduate of Oark High School and resides with her family in Ozone.
Topics: About