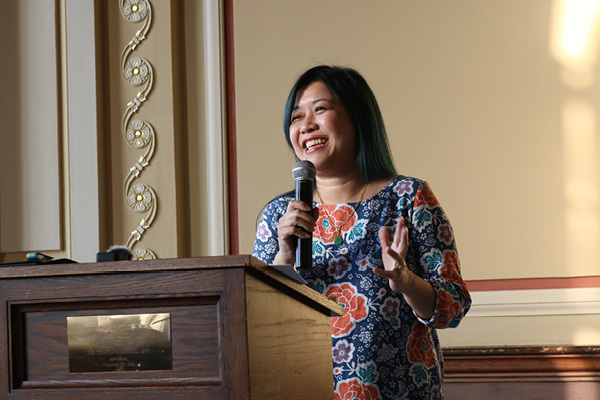 Tammy Harrington, professor of art at University of the Ozarks, shared her artwork and her passion for her craft at a pair of recent events.
Harrington's solo exhibition, "In Between," is on display at the Arts & Science Center for Southwest Arkansas in Pine Bluff through July 20, 2022. In addition, she was the featured speaker (pictured above) at the Third Thursday Speaker Series at the Texarkana (Texas) Regional Arts & Humanities Council on May 19, 2022.
"I am very fortunate to be at this point in my artistic career and to have opportunities to exhibit and speak about my artwork," Harrington said. "It is a challenge to continue art-making, especially after college. I often speak to my students about this transition. How does one balance home life and work life with art life? It takes effort, passion, and dedication. Making art allowed me to discover more about how I became to be this person. What I love about art is its ability to provide storytelling and connection. A way for the viewer to feel the sensation of belonging and/or to understand and bond as humans. That is the goal I have as an educator, to help students in my classes to find their way to express their creative spirit and to set up the best way possible to have a career in the art field."
A printmaker and paper cut artist, Harrington creates artwork that "imbues the cross-cultural influences of Chinese and American culture into figurative compositions to create an ephemeral space, in a place between reality and the mystical."
"Art-making gave me the ability to learn about my identity in profound and meaningful ways," Harrington said. "These revelations came at different times of my life. These moments of clarity and awareness were usually unexpected and the messages were surprising at times. It seemed as if these were things that I always knew but was not aware of at the time. I was born and raised in South Dakota, the child of Hong Kong immigrants. At home I lived a Chinese existence or as Chinese as you can be in South Dakota. Cantonese was the primary language spoken at home especially since my grandmother did not speak English. The furnishings in my home were much in the 70's American style, a bulky television console, shag carpeting, and wood paneling. Sprinkled throughout were accents of Chineseness like embroidered satin pillows, lanterns, brass Chinese characters on the wall, and Chinese knick-knacks. The American world was piped into this setting via Sesame Street, Wonder Woman, and Mork and Mindy. This setting is indicative of my experience navigating the world as an Asian American – my physical appearance is Chinese but my personality, actions, and experiences are a mixture of American and Chinese."
Harrington said her artwork "is a blending of my interpretations of traditional Chinese paper cut designs and imagery into personalized figurative compositions."
"The combination of the paper cut with other media shifts the idea of space to be both dimensional and flat. The use of pattern (printed and cut out) depicts the figure as it exists in an ephemeral state, in a place between reality and the mystical. The delicate lines combine with bold shapes and color to create visual movement and vibration. Often times, the still figure seems to exist in a state of chaos and commotion as if she is caught in turbulent waves or stormy winds. Patterns and imagery attach themselves to the figure and surround it at the same time. These patterns represent the duality of my existence as a Chinese American."
Harrington earned a BFA in printmaking from the University of South Dakota and a MFA in printmaking from Wichita State University. She received the U of O's Bagwell Outstanding Faculty Award in 2013 and 2018. She has exhibited artwork throughout the region and nationally. She serves as the president of the Arkansas Society of Printmakers and was awarded the 2017 Beaux Arts Award from the River Valley Arts Center.
(Photo Courtesy of the Texarkana (Texas) Regional Arts & Humanities Council.)