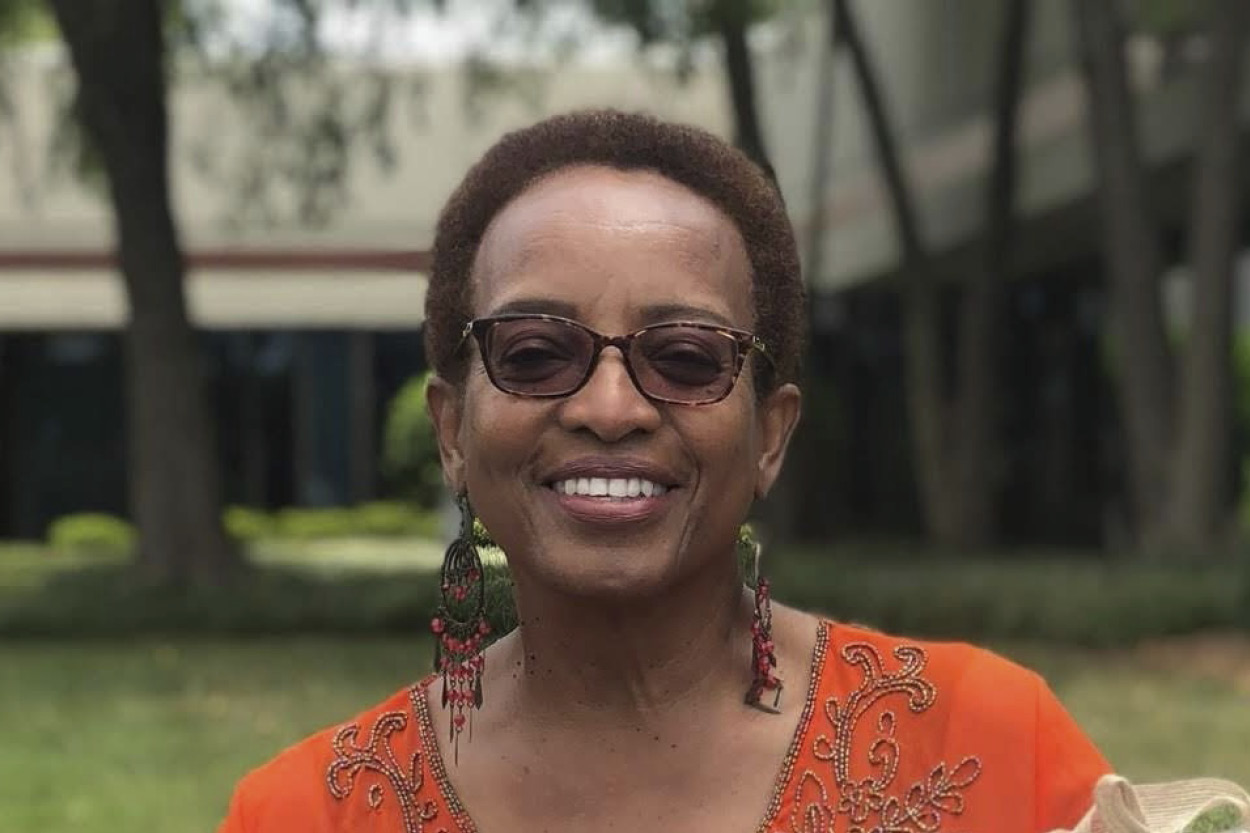 University of the Ozarks alumna Jacquelyn "Jackie" (Lawrence) Hampton '68 of Stone Mountain, Ga., spent the majority of her professional career helping others and fighting for those less fortunate. For that, her alma mater honored her recently with the prestigious Alumni Merit Award for 2022.
Hampton received the honor during the University's annual Ozarks Awards Ceremony on Oct. 21.
The Alumni Merit Award is presented annually by the Alumni Association for "outstanding service contributions and excellence in leadership on behalf of Ozarks."
As a first-generation college graduate herself, Hampton's 50-plus year career in teaching, counseling and social work was a calling of service, benevolence and support.
Her career includes teaching in the public school district of Kansas City, Kan.; serving in family counseling; serving as a district administrator for Kansas Children's Service League with the Black Adoption Program; being a program coordinator for the Developmental Disabilities Center at the KU Medical Center; and being a program supervisor and acting director of the Department of Community Development for Wyandotte County in Kansas.
For a large part of her career she was a consultant for child welfare agencies and a grant reviewer for federal and private agencies. She has also authored several published articles, conducted numerous workshops and been a featured speaker on topics related to child welfare and Black family issues. She has served on numerous boards and advisory committees in the child welfare/disabilities field as well as the University of Kansas School of Social Welfare.
Hampton said it was a pair of tragic events early in her life that led her to a career in helping and advocating for those who needed it.
"It was my aspiration to have a career that included helping people and especially contributing towards improving the social and economic conditions of African Americans," Hampton said. "This became a profound objective while attending the Ozarks as I was faced with my brother's death which was caused by the brutal beating by policemen and the death of my grandmother who died in her house that was set on fire by a racist group."
Growing up in Atlanta, Hampton said she was recruited to attend Ozarks in the mid-1960s by a local Presbyterian minister in Atlanta. The church continued to play a role in her development once she enrolled at Ozarks.
"As a student at the Ozarks, I was profoundly influenced by opportunities allowed by the United Presbyterian Church, which not only included getting a college degree, but experiences such as traveling to Uppsala, Sweden, as a youth representative to the World Council of Churches and serving on mission teams for three years in Arkansas and Florida," Hampton said. "The mission teams were often interracial and primarily focused on the African American Community. My responsibilities included, assisting with voter registration, youth development activities and vacation Bible School."
Hampton said her freshman year at Ozarks was especially difficult.
"The segregation that I experienced in Georgia existed at the Ozarks during my freshman year," she said. "African American students were limited in the types of campus jobs allowed us, who we were assigned as roommates and through how the businesses responded to us in the town of Clarksville. However, this led to my being a part of a close-knit African American student group and some of those relationships continue today."
Over the past 30 years, Hampton has been involved in the University's alumni groups, leading efforts to organize Black alumni groups and gatherings as well as assisting Black students on campus.
"For many years we functioned as the Black Alumni of the Ozarks, and myself and others hosted meetings in various states," Hampton said. "We established a scholarship fund and I recruited a student from Kansas City who attended the Ozarks."
After graduating from Ozarks, Hampton went on to earn a master's degree in social work from the University of Kansas School of Welfare and completed all but the dissertation towards a Ph.D. The doctoral program included her teaching and serving as a student advisor and field instructor for BSW level students. Her research focused on areas of adoption, foster care and developmental disabilities.
Hampton spent most of her adult life in Kansas City before returning to Georgia following her retirement. She and her late husband, Henry Hampton '68, also an Ozarks alumnus, had two children and two grandchildren and also parented two teenage cousins.
"I am grateful for the time that I spent as a student at the Ozarks," Hampton said. "I became the first in my family to earn a college degree. The Ozarks provided me with the foundational knowledge to fulfill my aspirations through a career in social work and administration."