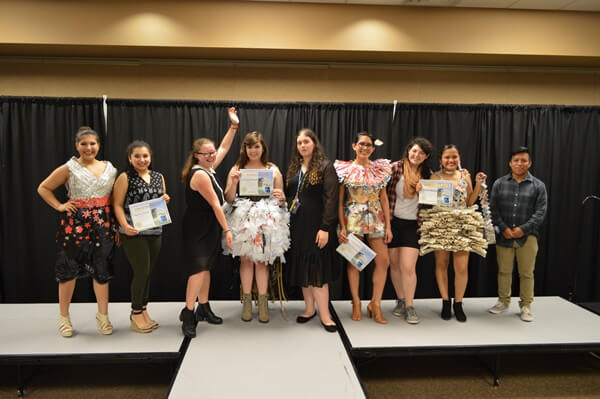 The team of Lidia Caz, Gladis Alvarez and Manuel Sac took home first-place honors during the 6th annual Recycled Fashion Show, presented by the student art organization OzArts on April 12.
Caz modeled the winning outfit that was designed by the three Guatemalan students in the annual competition that promotes fashion designs that utilize recycled materials. The winning design was made out of newspapers, magazines, food wrappers and paper bags.
A panel of judges determined the winning entrants. The first-place team received $300.
Ana Sofia Camargo took second place and the team of Aubree Sisson, Tonya Palmer and model Anicka Wilcox finished third. Taking fourth place was the duo of Gabriela Serrano and model Valerie Robleto.
A total of 11 designers and seven fashion designs were featured during the event.
Other designers included, Blanca Almaraz-Martinez, Juan Almaraz-Martinez, Keaton Harveson and Ana Ojeda.
The top four designers and their models in the 6th annual Recycled Fashion Show included (from left) Valerie Robleto, Gabriela Serrano, Aubree Sisson, Anicka Wilcox, Tonya Palmer, Ana Sofia Camargo,  Gladis Alvarez, Lidia Caz and Manuel Sac.
Topics: Student Events