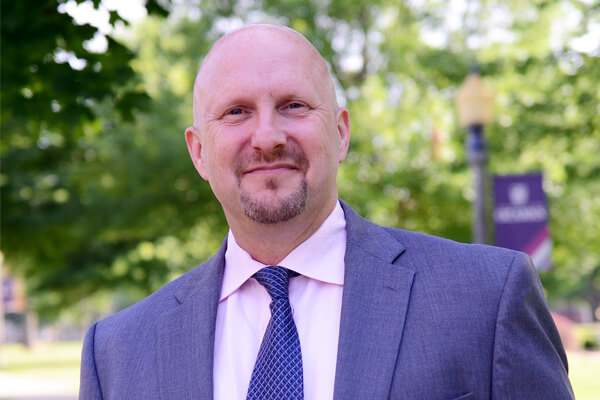 Larry Graham, a 26-year law enforcement veteran, has been named the director of public safety at University of the Ozarks. He began his duties on June 11.
Graham retired in February after 22 years with the Portland (Ore.) Police Bureau, starting as a utility officer and leaving as a captain in the city's central precinct, where he supervised more than 150 officers and support team members.
"I feel extremely blessed to be invited into the University of the Ozarks family," Graham said. "Student and faculty safety will always be my main focus, but I am hopeful our department can become so much more. I want our officers to be mentors, role models, and a safe harbor for our students. Please don't hesitate to call or stop in and say hello. I want to know how we can best serve the University and ensure student success."
As part of his role with the Portland Police Bureau, Graham served as crowd management incident commander, where he led efforts in managing and controlling large events. He also initiated outreach and relationship development programs in diverse neighborhoods in the city.
His law enforcement experience also includes working with and mentoring youth in his community through scholarship and summer camp programs.
"Larry was an exemplary officer known for building relationships within his community and for his service to the community," said Jeff Scaccia, vice president for finance and administration. "His extensive background in law enforcement, his organizational and management skills and his experience working with students and youth will make him a valuable member of the Ozarks staff. I believe he will serve our students and greater community well."
Background
Graham earned a bachelor's degree in management and communication from Concordia University in Portland and a master's degree in criminal justice from the American Military University in Charleston, West Virginia. He also graduated from the FBI National Leadership Academy in Quantico, Va.
He served in the United States Navy as well as the U.S. Navy Reserves.
Graham and his wife, Cara, have a 9-year-old daughter, Hope.
Topics: About, Campus Life, Criminal Justice