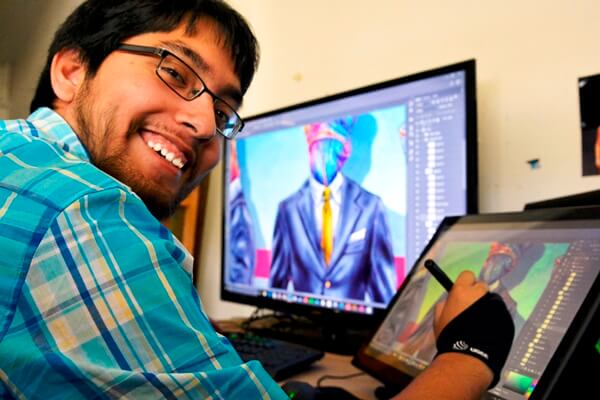 Obed Gonzalez's senior art exhibit, "Conundrum," is a project that's been in the works since he first stepped on campus four years ago as a freshman.
The University of the Ozarks senior art and education major from Clarksville will present "Conundrum" in the Stephens Gallery from April 27 to May 10. There will be a reception to meet the artist from 6-7 p.m. on Saturday, 29 in the gallery, located in the Walton Fine Arts Center.
Featuring artwork that highlights Gonzalez's illustrative style of defined lines, vibrant colors and texture, Conundrum is the culmination of his experiences and relationships over the past four years at Ozarks.
"I've incorporated ideas and symbols not just from art but from other disciplines as well, such as biology, psychology, religion, sociology and creative writing," said Gonzalez, who will graduate in December 2017. "All of my subjects are students I have gotten to know across my time at Ozarks, so in many ways this project is an extension of those friendships I have formed along the way here."
Senior art and education major Obed Gonzalez of Clarksville will present his Senior Art Exhibit, "Conundrum," in the Stephens Gallery from April 27 to May 10.
Conundrum is a series of digitally illustrated portraits inspired by six diverse classmates with whom Gonzalez has had a personal connection. The portraits, however, are not renditions of each person's likeness but rather their representations as human beings with complex emotional and psychological states.
"Through interviews, each individual was given an opportunity to describe and reflect on their own lives," Gonzalez said. "My questions focused on their own human nature, mental and physical, to explore the kind of person they are. During interviews, individuals were allowed and even encouraged to make at least one lie. Lying is part of human nature, self-written fiction that constructs our own internal and external identities. Truth and lies are the components of each human being. As such, my project embraced both."
A self-described digital artist and storyteller, Gonzalez said the interaction between himself and his subjects helped drive the creation of the artwork.
"Though the tone of each series varies from person to person, many universal motifs emerged: nature, love, relationships with others, hopes, dreams and inner demons," he said. "Juxtaposition and abstraction became the norm for many of the portraits, forcing me adapt to each of the unique individuals."
He said the inspiration for this project came from the work of digital artist Pete Mohrbacher.
"His illustrations of abstract characters were the serendipity for my project," Gonzalez said. "Aesthetically, the portraits highlight my illustrative style of defined lines, vibrant colors, and texture. These three main hallmarks allowed me to create the vast range of images that range from representational to more abstract."
Obed Gonzalez's digital illustration, "A Girl Just Needs the Right Flats," is one of 30 illustrations that will be on display during his Senior Art Exhibit.
A native of Piedras Negras, Mexico, Gonzalez's passion for art began with early experiments in graphic design and through an interest in creating comic books. This shifted his idea of graphic design from a means of making logos to the creation of artwork.
He said the idea behind the Conundrum series stems from his love of puzzles as well as the complexity of people.
"In terms of format, I find nothing more stimulating than a good puzzle," he said. "My love for puzzles found an outlet through examining people, an entertaining and frustrating artistic subject. Every individual is represented through a series of five images, each image revealing a fraction of their personality.  The viewer should not seek to deduce who inspired these portraits, but rather examine each image individually and as a collective to create their own idea of who these people are as relatable human beings. With Conundrum, I challenge viewers to analyze and reflect on themselves just as much on the people before them."
Gonzalez allowed each of the portrait subjects to name their artwork, something that added to the collaborative spirit of the project.
"I wanted the entire process to be interactive and for the dialogue to continue throughout," he said. "These people helped me create the art and it made it more meaningful for both of us to let them name the pieces."
Topics: Art