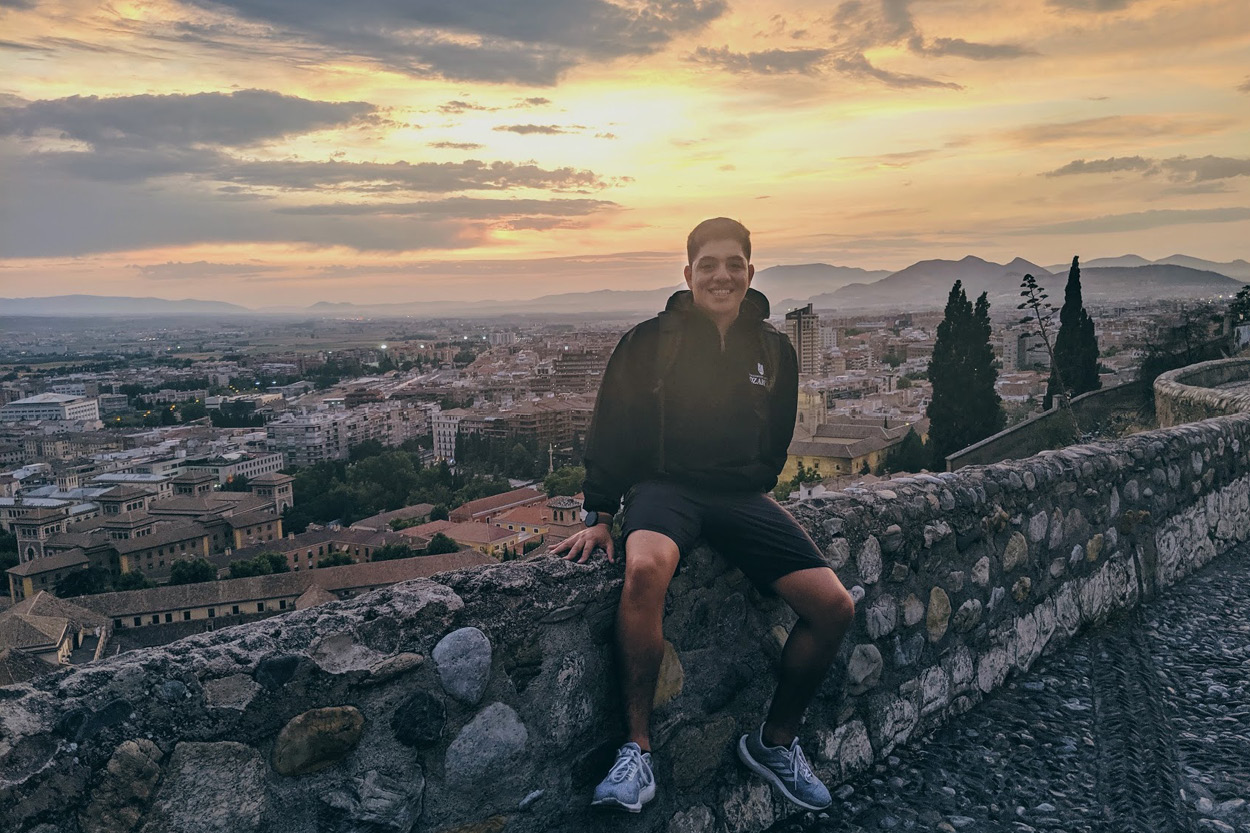 University of the Ozarks junior Luis Garcia had not travelled much outside of his hometown of Clarksville when he decided to spend the Fall 2019 Semester studying abroad in Spain. He called the decision to step outside his comfort zone one of the best he's ever made.
The business administration major spent the semester studying at the Universidad de Granada in Granada, Spain, through a company called Sol Education Abroad.
"As a commuter student, it was a tough decision to go since I'm so used to being with my family," Garcia said. "But I'm so glad I did it. This opportunity helped me experience a true college experience and grow individually in a whole new continent. Studying abroad taught me that learning isn't just in the school but also in the various settings you place yourself. Granada is a city rich in history and culture, and I learned more in that semester abroad than any other semester."
Garcia took 15 credit hours in courses such as Latin American civilization and culture, Spanish literature, Spanish grammar, marketing communication, and economics and business in Spain and Latin America.
"One great thing about doing my courses abroad was the language difference," Garcia said. "All my classes where in Spanish, which helped me learn Spaniard Spanish and learn the subject in a different language. Another benefit about being abroad is having the opportunity to learn the different education system. The way they teach in Spain is different from the USA. They have different priorities and standards which was really nice to learn about as well."
The lessons were just as valuable outside the classroom as well.
"I was learning many new things every day in so many different aspects," Garcia said. "it helped me gain skills in money management, self-awareness, courage and problem-solving as an individual. I grew so much as a person."
Garcia said one of the most memorable parts of the experience was staying with a host family that was organized through Sol Education Abroad. He said a typical day would start with breakfast with his host family before walking to classes.
"Our classes would be two hours long but we had a short break during class to get a snack or buy a coffee," he said. "After class, my friends and I would walk to a coffee shop called Qarmita, owned by a Venezuelan refugee who became a great friend of ours.  We would finish our homework for the day and then would head back home to eat lunch at 3 p.m. with our host families. After lunch we would take a siesta, which is very common in Spain. As a professional napper, there wasn't much to complain about. Once nap time was over, my friends and I would gather again and walk around the city of Granada and go for tapas, which is an appetizer or snack in Spanish cuisine. To finish most of our days, we would usually head to the church of San Miguel Alto, which is the highest viewpoint of Granada. It had a great view of La Alhambra and was the perfect place to watch the sun set."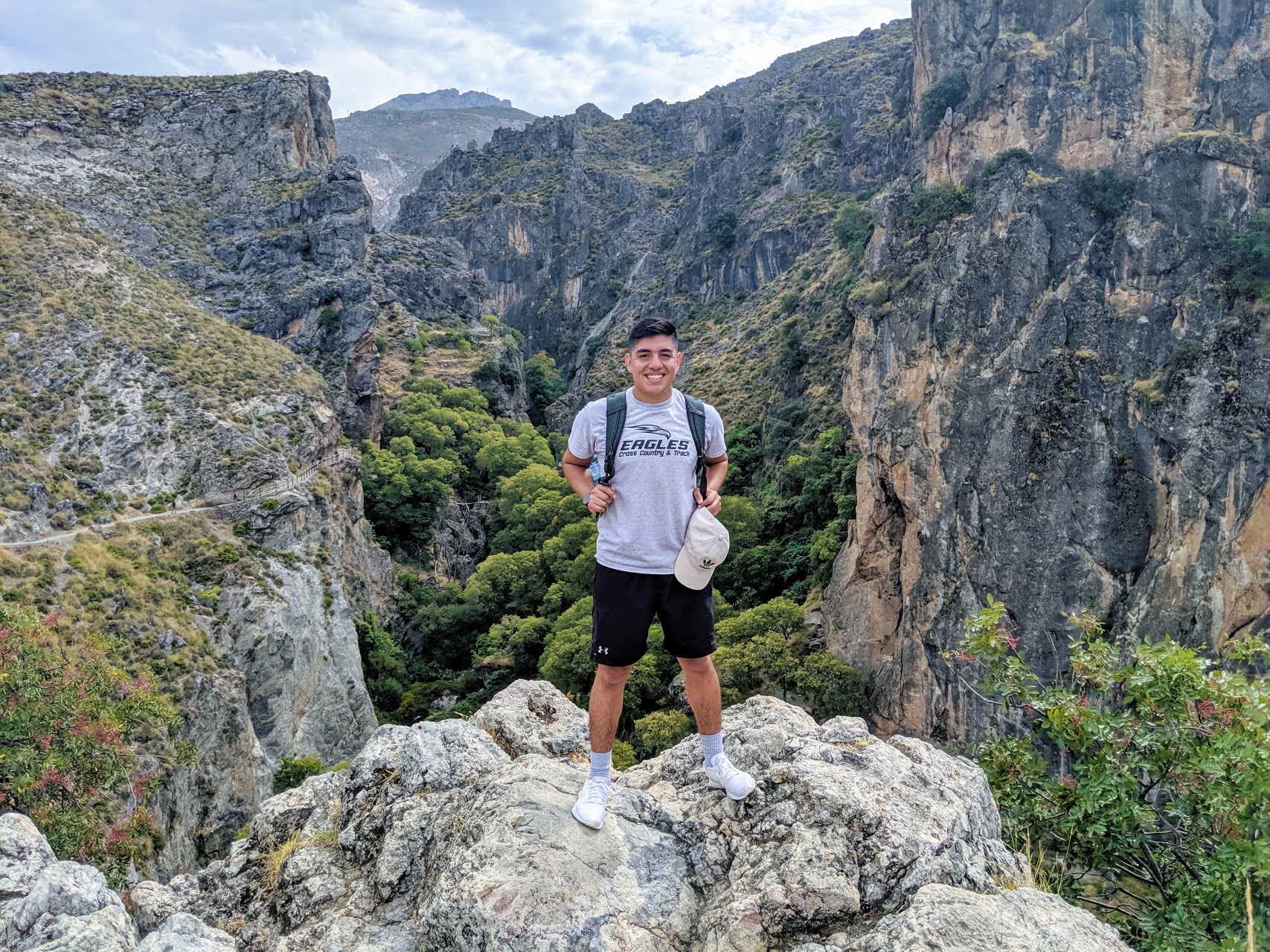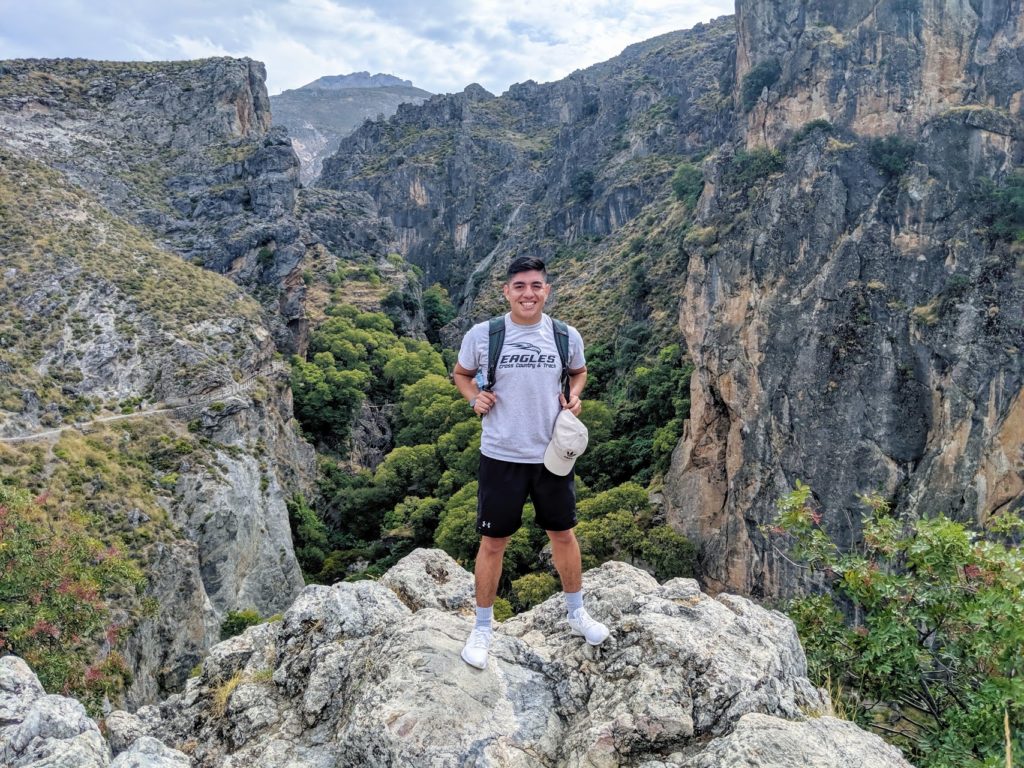 Garcia became fast friends with many of his classmates who came from around the United States as well as Europe and South America. They were also able to bond though long weekend excursions around Europe.
"In Europe, it is easy to travel to many countries for an affordable price, so we took advantage of that," he said. "We also had the chance to really explore Granada. It seemed like every day we got to see something new in the city. Granada would host many events like art shows, comic book sales, local market sale, movie week, Christmas light shows and other family events where we discovered new things to do."
Garcia said once he made up his mind to study abroad, he was surprised how easily and quickly the experience came together. Much of his trip was funded through a University grant, the Academic Enrichment Fund, that assists students with study abroad trips or research projects.
"The professors and staff at Ozarks were really helpful in providing information and tips for my study abroad opportunity," Garcia said. "They always encouraged me and informed me about grants I could apply for to help me financially, such as the Academic Enrichment Fund. And, Sol Education Abroad handled many of the details and set me up with a great host family."
Garcia said his study abroad experience is just the latest step in his growth as student. "This University has encouraged and pushed me outside my comfort zone in so many ways and that's helped me learn and grow," he said. "I was fortunate to take the roles as student ambassador and Ozarks experience mentor leader while I've attended here. These two important roles allowed me to grow and the study abroad trip was the next step. I can't wait to see what comes next."
Topics: Academics, Business Administration, Student Stories, Study Abroad