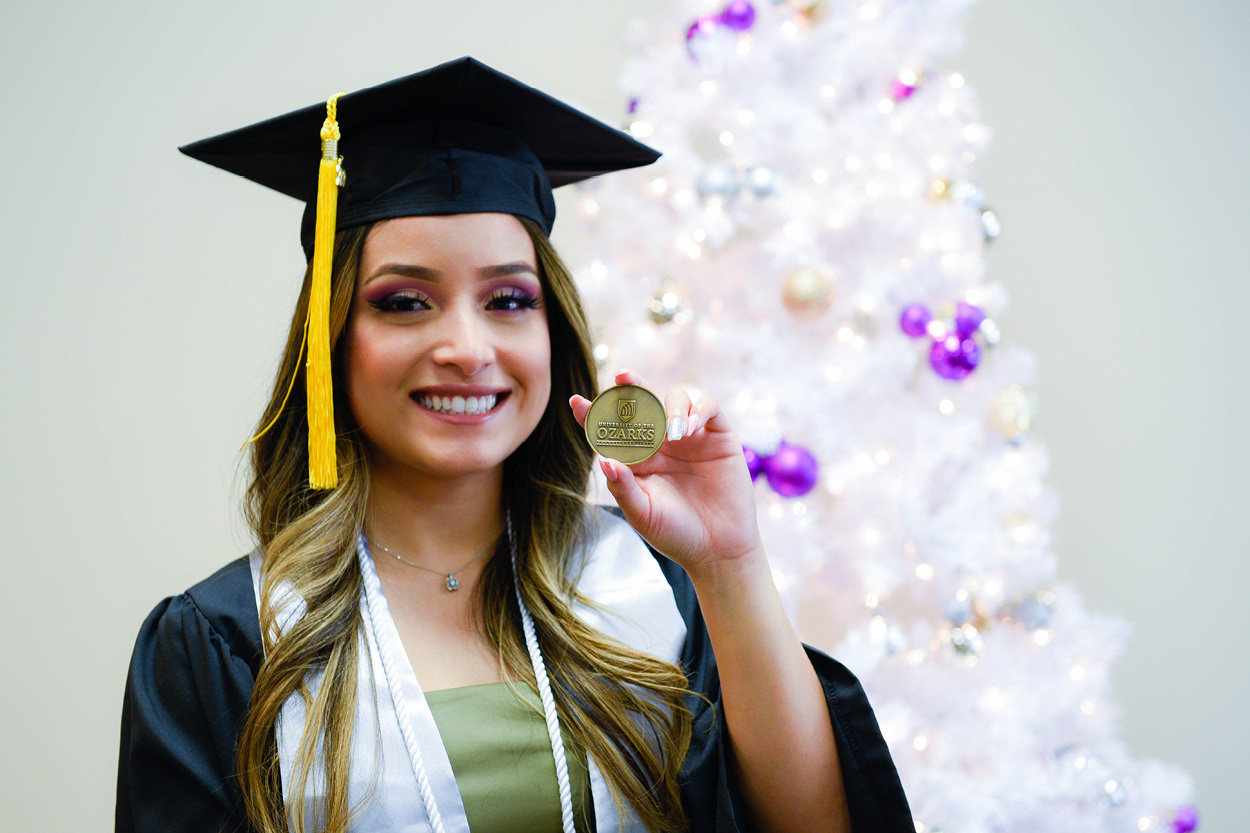 Daicza Garcia could be a poster child for how to do college.
The University of the Ozarks senior is graduating college in 3½ years and with high honors and no debt.
It's quite an accomplishment for the Clarksville native who will earn a degree in business administration with Magna Cum Laude honors during the University's Fall 2020 Commencement ceremony, which will be held in a virtual format on Saturday, Dec. 19.
Garcia is not only graduating early and with a cumulative grade point average above 3.5, she will leave Ozarks with no student debt, thanks to several academic scholarships and a lot of hard work. Throughout college, she often worked two jobs, sometimes up to 40 hours a week.
"It certainly wasn't easy and there were times that I was exhausted and completely stressed out, but to be able to earn my degree and have no debt makes it all worth it," Garcia said. "I'm proud I was able to accomplish it and I wouldn't change it for anything."
Garcia said from the first time she stepped on the Ozarks campus as a freshman in 2017, she had a goal to graduate with honors.
"I always had the mentality of 'reach for the stars, even if you only make it to the moon,' " Garcia said. "I knew I had to try my best to graduate with my highest level of potential, whether that meant with honors, or without. I'm also big on planning, so I created a list of courses that I had to complete every semester to reach my degree. I quickly found out I had the opportunity to graduate early because of the college courses I took in high school and my ability to manage my course load every semester. Balancing classes, work, and my social life was definitely stressful, but all well worth it."
Even with a busy schedule, Garcia found time to utilize her bilingual skills to volunteer at a local women's health clinic.
"I originally was to help work with their website, but I ultimately worked on paperwork and helped them translate documents into Spanish," Garcia said. "The CEO of the Johnson County Regional Medical Center believed that my bilingual skills would be used best in translating all of the paperwork needed for incoming patients at the clinic. I am aware of the language barriers that are often found within Clarksville and having the opportunity to make women feel more comfortable and capable of understanding paperwork and procedures seemed essential to my community and I was glad to help out."
While Garcia initially knew she wanted to purse a degree in business, she took advantage of the University's LENS currirculum to explore other disciplines. She eventually decided to earn minors in Spanish, health science and strategic communication.
"My minors came about through different reasons," she said. "I'm a bilingual speaker raised in the U.S., so having a Spanish minor further accredited my bilingual skills on paper. I've always enjoyed learning about the human body and with the LENS program, it gave me the opportunity to explore the sciences, leading me to choose a health science minor. I chose my strategic communication minor last-minute because I found out I had space in my schedule and I grew to enjoy the communication field after taking a random public relations course my freshman year. I definitely know these mixtures of minors with my major will help lead me into an exciting career path."
Garcia said one of her most valuable college experiences was taking part in a summer internship at the Mitchell Communications Group, a public relations firm in Fayetteville, Ark.
"In the internship, I was placed with a group of interns to assess a non-profit organization's deficiency of social media exposure within their community," Garcia said. "We recommended the implementation of a non-paid intern to lead social media marketing campaigns and posts, created an internship job post, a social media calendar that extended to the end of the year, evergreen media posts, and example captions. The internship reaffirmed my desire to work in the communications field. I found it very interesting and I enjoyed having to brainstorm in a team environment."
Garcia, who plans to pursue a career in either communications or business, will be the second person from her family to graduate college, following her older brother, Ricky. Her younger sister, Odalis, is a sophomore at Ozarks.
"Ozarks has pushed me to grow out of my comfort zone," Garcia said. "As a person, the University has helped me become more apt to creating friendships and connections with different people. As a student, Ozarks has helped me acquire knowledge on different subjects and has been a helpful resource for pursing my degree. The University has shown me that I am capable of surpassing educational challenges and achieve my goals as a student."
"When I stop and look back, I am thankful I got to be a part of such a diverse and accepting college community. I've been to different campuses and met different people, but I can say nothing compares to the warmth and welcome the Ozarks community gives, both in the student body and faculty."
Topics: About, Business Administration, Student Stories