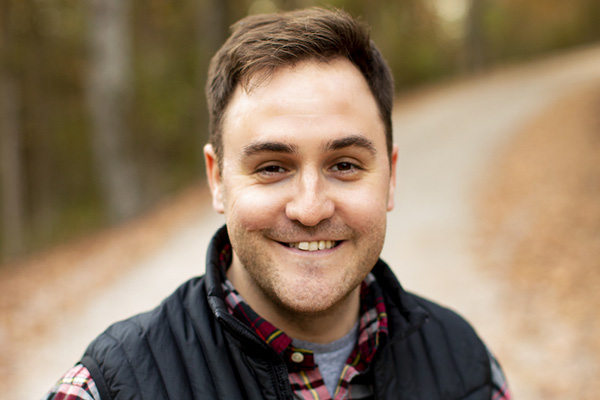 Dr. Daniel J. Fudge, a native of the Arkansas River Valley who earned his Ph.D. from the University of Mississippi, will join the University of the Ozarks faculty as an assistant professor of political science, beginning the Fall 2022 Semester.
Fudge most recently served as an adjunct professor and associate director of development at the University of Arkansas at Fort Smith (UAFS). He previously was an assistant professor of political science at Tulsa Community College and an instructional assistant professor at the University of Mississippi.
Fudge grew up in the Arkansas River Valley communities of Dover and Russellville before graduating high school in Van Buren, Ark. He earned his bachelor's degree from UAFS before going on to receive his master's and Ph.D. from Mississippi.
Two of Fudge's grandparents attended Ozarks — his late paternal grandfather, J.W. Fudge, and his maternal grandmother, Mary Bean. J.W. Fudge attended pharmacy school at Ozarks in the early 1950s before the pharmacy school was relocated, and Bean graduated in 1970 with a degree in elementary education. 
"Growing up in both Central and Western Arkansas, I've always known the special value that the University of the Ozarks provides to students," Fudge said, "U of O's approach to learning and personal development is unique in higher education and I am grateful for the opportunity to support the institution's mission of empowering students in their intellectual, social and spiritual growth.  I look forward to joining the campus community so I can impart my passion for teaching about government and political science, with the ultimate goal of helping prepare students in becoming more civically engaged and knowledgeable about their role in a democratic society. Joining this great institution is special to me as two of my grandparents attended here and I enjoy the tight-knit campus environment. I am excited to be a part of the University of the Ozarks family where I will be a mentor to students to assist in their future ambitions and support them in their academic journeys."
Fudge said one of his teaching goals is "to create an inclusive environment that ensures success for students of different backgrounds and learning styles."
"In my experience, I have made adjustments to my teaching style based on student commentary which I frequently seek out over the course of the semester, and from my own experiences in the classroom," he said. "Specifically, I have been able to develop a personal teaching style that allows me to be flexible in order to effectively teach students of various learning styles. For instance, since some students are more tactile learners, I have incorporated critical thinking group activities in my classroom. To help those who are more visual in their learning styles, I utilize news clips, educational videos, and contemporary political television shows to help bring the material to life and to help create an image in the students' minds. Oftentimes, I set aside a time either at the beginning or the end of class to have conversations about how the relevant material we discussed in class manifests itself in contemporary politics. I've noticed that students have many light-bulb moments when they are able to connect the material to a real-world occurrence. Therefore, such conversations have become a mainstay in my teaching repertoire."
His major field of study in his doctorate was American Politics and his dissertation was titled, "The Politics of 'Place,' the Urban-Rural Divide, and Geographic Identities in American Politics."
"My research focuses on the confluence of political geography, identity politics, and political behavior," Fudge said. "In my dissertation, I examine whether the place where someone lives fosters an environment by which people are socialized politically by their immediate geographic surroundings. I theorize that an individual's 'place' acts as an identity by which people perceive politics through a geographic lens. At its basic level, "place" serves as the backdrop for the political socialization process that impacts all Americans. While it is evident that partisanship, parental influence, as well as other sociological factors, play a significant role, my research attempts to understand how 'place-based' identities are activated and therefore contribute to the geographic divide that permeates American politics today."
Fudge and his wife, Meagan Bowling-Fudge, have been married since March of 2021. She is the director of student information system initiatives in the Office of Student Success & Retention at UAFS.
Outside of academia, Fudge is an avid sports fan, including baseball and English Premier League soccer. He and his wife also enjoy traveling and have plans to visit every presidential library over the coming years.
Topics: About, Political Science