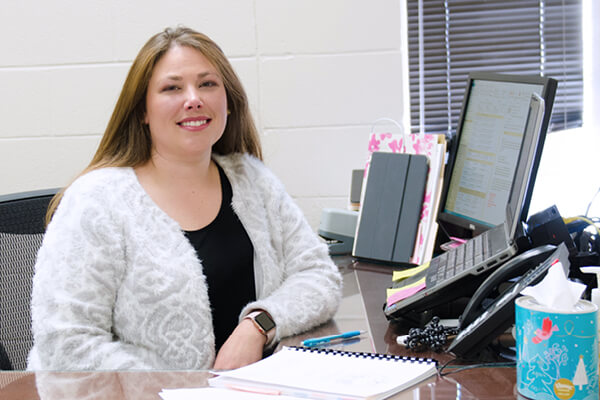 Monica Frizzell has been named the new registrar at University of the Ozarks, effective Jan. 2.
A 2002 graduate of Ozarks, Frizzell has served in the Registrar's Office for more than 15 years, including 11 years as assistant registrar.
"I am very excited about Monica stepping into the role of registrar," said Jeff Scaccia, vice president for finance and administration. "She brings considerable experience working in the Registrar's Office and is very familiar with the requirements and responsibilities of the position.  Her background will also give her insight into where improvements may be made to better the student experience and to continue improving operational efficiency for the office and how it interacts with the rest of the campus."
Frizzell worked in the Registrar's Office from 2001 to 2005 and served as assistant registrar from 2005 to 2014 before leaving the University in 2014. She returned in 2017 as assistant registrar. She also previously worked as the office manager in the Division of Humanities and Fine Arts from 2000 to 2001.
She replaces Wilma Harris, who retired in December.
"I have had the pleasure of serving students, faculty and staff at Ozarks for many years in the Registrar's Office and I'm excited for the opportunity to continue to serve the campus as registrar," Frizzell said. "I look forward to continuing to help students achieve their degrees and to see them succeed."
The Registrar's Office maintains the official repository of student enrollment, registration and academic records of current and formerly enrolled students. It is responsible for registering U of O students, reporting grade information and maintaining academic records. The office is responsible for maintaining an accurate schedule of courses and provides assistance to students with name and address changes, enrollment certifications, registration, schedule adjustments after the drop/add period and graduation.
Frizzell and her husband, Jeff, live in Clarksville and have one daughter, Abby.
Topics: About, Academic Support, Academics, Financial Aid, Parents