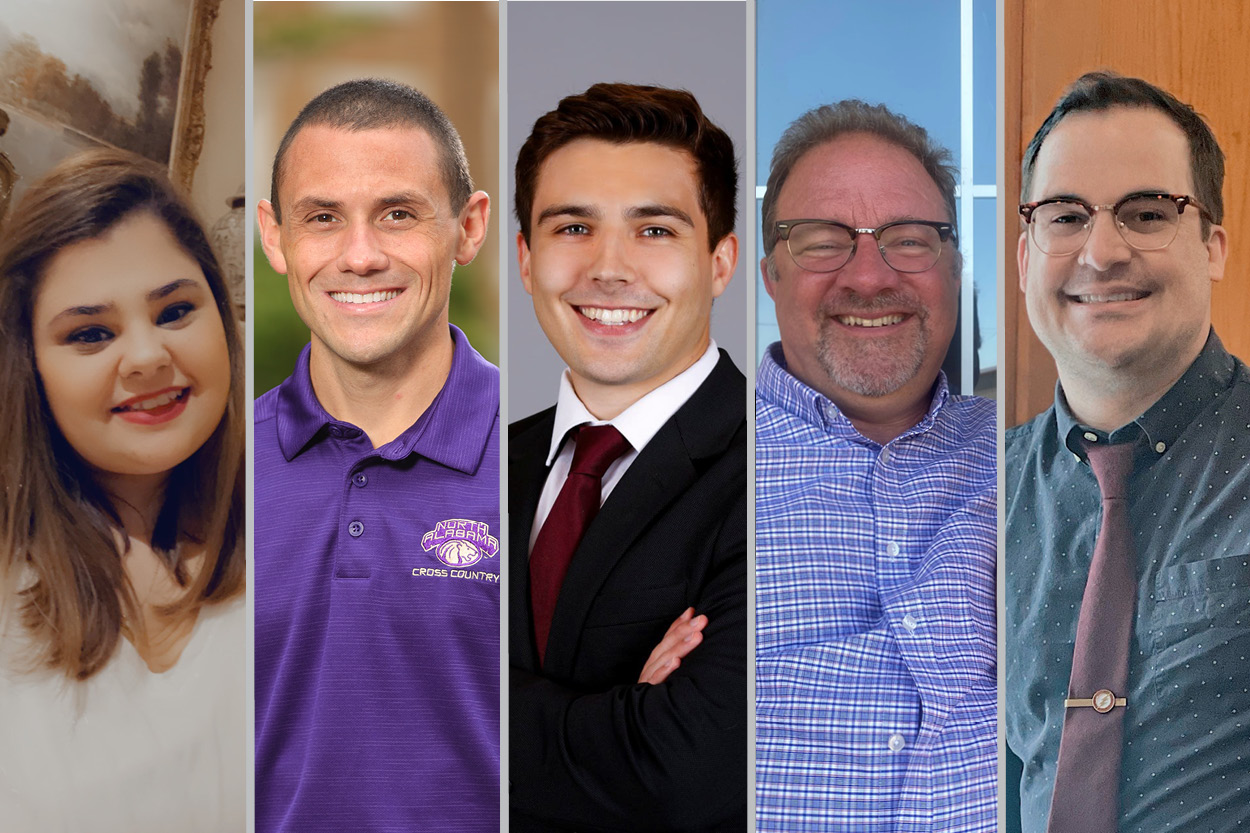 The University of the Ozarks Alumni Association elected five alumni to join its board of directors during the organization's annual winter meeting in February.
The new directors will begin their terms on July 1, 2022.
The new members are (pictured from left) Torie Parsons '09 of Dallas, Texas; Jeremy Provence '12 of Florence, Ala.; Thomas Ross '18 of Dallas, Texas; George Pittenger '91 of Midlothian, Texas; and Alexander Chandler '12 of Conway, Ark.
Also at the meeting, the association elected to retain the current officers for 2022-23. Those include, Shannon Huggins '91 as president, Cyleste Coppage '97 as vice president, Cori Dyson '97 as secretary and Brittany Brantley '13 as treasurer.
Parsons, who served as an ambassador for the Jones Learning Center while at Ozarks, is a second-grade teacher at Seagoville North Elementary School in Dallas. After earning an MBA in non-profit management, Parsons worked for four years at the Dallas Arboretum and Botanical Garden before going into teaching.
Provence, a standout cross country runner during his time at Ozarks, is the cross country coach and assistant facilities and operations manager at University of North Alabama. Previously, he was the cross country and track coach at Ozarks. He and his wife, Tina, have a one-year-old son, Sylas.
Ross, who was a member of the men's soccer team at Ozarks, is a mortgage officer for First United Bank in Dallas.
Pittenger, who previously served on the board, is a licensed professional counselor in Texas. He and his wife, Loraine, have a son, Kerwin.
Chandler, who worked in the Office of Student Life as a student at Ozarks, is the area coordinator for apartments at Hendrix College. After graduating from Ozarks, he earned a master's degree in college student personnel from Arkansas Tech University and previously worked at Texas A&M.
Those board members whose terms will expire at the end of June include, Jessalyn Halsted '08 and Mark Pearson '13. Wendy Blackwood '90 resigned in February and was replaced by George Lee '85.
Created in 1967, the alumni board of directors meets three times a year and is comprised of up to 30 U of O alumni who are volunteers. They dedicate their time in support of current students and faculty as well as in engagement of fellow alumni and recruitment efforts.