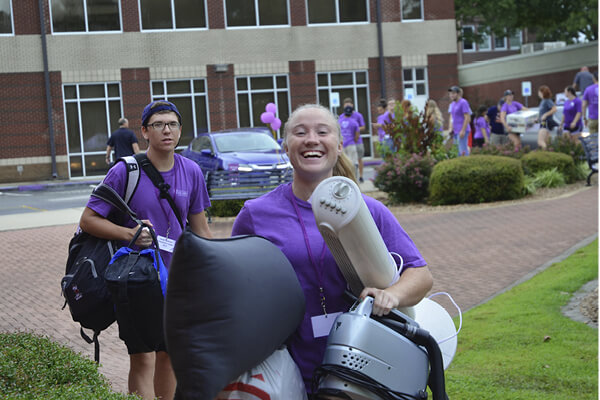 University of the Ozarks will welcome approximately 330 new students to campus on Aug. 16 for the start of First Week 2018, the official kickoff for the 2018-19 academic year. Classes for the Fall 2018 Semester will begin on Tuesday, Aug. 21.
The new class is expected to include approximately 280 freshmen and 50 transfer students.
First Week, which runs from Aug. 16-20, is an on-campus orientation program to help new students become acclimated to the University.
First Week begins on the morning of Aug. 16 with faculty, staff and upperclass students helping the new students move into the residence halls. The residence halls will open at 8 a.m. for the new students to move in.
First Week 2018 will include a mix of developmental, academic, social and engagement orientation opportunities.
One of the highlights of First Week is the Matriculation Ceremony, where the University officially welcomes the new class to campus. The Matriculation Ceremony is scheduled for 3 p.m., Aug. 16, in Munger-Wilson Chapel.
Highlights of First Week:
Aug 16 – A welcoming program at 1 p.m.; an information session for parents at 1:30 p.m.; Matriculation Ceremony at 3 p.m.; a President's Welcome Picnic at 5 p.m.;
Aug 17 – Introduction to First Week at 9 a.m.; Resource fair at 2:15 p.m.; pool party at Clarksville Aquatic Center at 8 p.m.
Aug 18 – Game of Ozarks Life at 10 a.m.; Provost Picnic at 5:30 p.m.; Beach Bash on Campus Mall at 7 p.m.
Aug 20 – Transfer orientation at 1 p.m.; Opening Convocation for all students at 4 p.m.; Welcome Picnic at 5 p.m.; Music on the Mall at 8 p.m.
Important dates for the Fall 2018 Semester:
Labor Day Holiday: Sept. 3
Family Weekend: Sept. 21-22
Homecoming: Oct. 25-28
Fall Break: Oct. 18-19
Thanksgiving Holiday: Nov. 21-23
Last Day of Classes: Dec. 5
Final Exams: Dec. 7-12
Fall Commencement: Dec. 15
Topics: About, Academics, Campus Life, Community Events, Parents, Student Events, Student Life