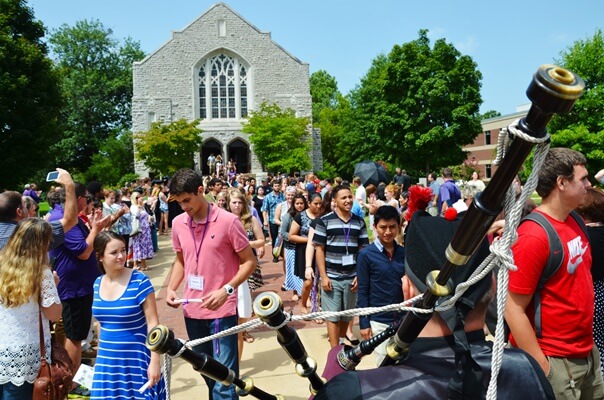 Ozarks will welcome approximately 300 new students to campus on Aug. 17 for the start of First Week 2017, the official kickoff for the 2017-18 academic year. Classes for the Fall 2017 Semester will begin on Tuesday, Aug. 22.
First Week, which runs from Aug. 17-21, is an on-campus orientation program to help new students become acclimated to the University. First Week begins on the morning of Aug. 17 with faculty, staff and upperclass students helping the new students move into the residence halls.
First Week 2017 will include a mix of developmental, academic, social and engagement orientation opportunities.
According to Dean of Students Steve Weaver, First Week was created through a collaborative effort of faculty, staff and current students.
"First Week is a fun and informational event that serves to support the transition to college, integrate new students into our campus community, and strengthen the connection to Ozarks' rich history," Weaver said "It is a special time to spend with students and their families as these students begin their journey at Ozarks."
Weaver said a major component of First Week is to help prepare students for academic success.
"Students will have sessions with their Ozarks Experience instructor and classmates, designed to engage students about their academic transition to Ozarks and to set students up for academic success," Weaver said. "We have created the structure and have the staff to support and encourage students during this important transition and to set the groundwork for a successful four years at Ozarks."
One of the highlights of First Week is the Matriculation Ceremony, where the University officially welcomes the new class to campus. The Matriculation Ceremony is scheduled for 3 p.m., Aug. 17, in Munger-Wilson Chapel.
"Matriculation is a very meaningful ceremony that is a symbolic welcoming and exchange of promises between students and the University," Weaver said.
The residence halls will open at 8 a.m. on Aug. 17 for the new students to move in.
Events of the week include:
Aug 17 – a welcoming program at 1 p.m.; an information session for parents at 1:30 p.m.; Matriculation Ceremony at 3 p.m.; a President's Welcome Picnic at 5 p.m.;
Aug 19 – Eagle Serve community service projects in the morning; an "Ozarks Got Talent!" event at 8 p.m.
Aug 20 – Ozarks Fest on the campus mall at 7 p.m.
Aug 21 – Opening convocation for all students at 4 p.m.
Important dates for the Fall 2017 Semester:
Labor Day Holiday: Sept. 4
Parent's Weekend: Sept. 22-24
Homecoming: Oct. 13-15
Fall Break: Oct. 19-20
Thanksgiving Holiday: Nov. 22-24
Last Day of Classes: Dec. 6
Final Exams: Dec. 8-13
Fall Commencement: Dec. 16
Topics: About, Community Events, Presbyterian