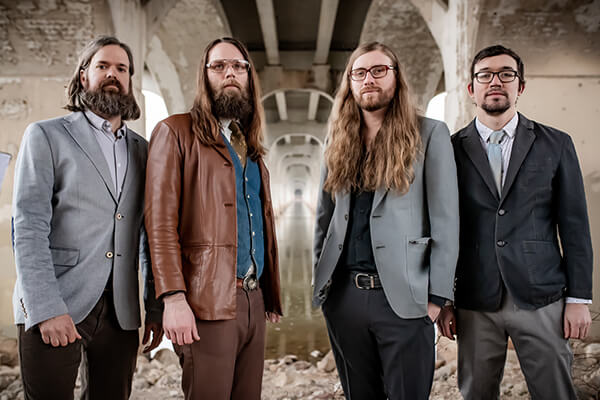 Arkansauce, a genre-hopping, four piece string band from Northwest Arkansas, will perform as the featured act during the final First Friday of the fall semester on Nov. 1.
The event in downtown Clarksville begins at 5 p.m. with the music starting at 5:30 p.m.
There is no charge for admission and the public is invited to attend and encouraged to bring lawn chairs or blankets. In case of inclement weather, the event will be held in the Marvin Vinson Community Center.
Presented by the Clarksville Advertising & Promotion Commission, University of the Ozarks and the Clarksville-Johnson County Chamber of Commerce, First Friday is an outdoor community event on the green space that is located at the corner of Main Street and the Spadra Trail. Held every month the University is in session, the family-friendly event features live music, a variety of food trucks and vendors as well as lawn games.
Arkansauce blends a mix of bluegrass, newgrass, folk, americana, country, blues and funk music. With a loyal following growing every day in the Natural State and along their tour routes, the band is proud to be stepping into a hard-driving sound unique to the Arkansas quartet.
The band's third album, "If I Were You," was released in April 2017. The album consists of all original material and, according to the band's website, "finds the palate expanded with more complex melodies, intriguing rhythms, and hard-hitting hooks that leave the songs whirling around your head long after the listening experience."
The band's roots go back to 2011 when founding members Ethan Bush, Zac Archuleta, and Stephen Jolly began writing together after becoming acquainted through mutual connections in the close-knit Fayetteville music scene. After a couple of years building a repertoire of original music and releasing their first album, "Hambone," as a trio, they were joined by Tom Andersen on the upright bass and Adams Collins on the five-string banjo. The road-tested chops Andersen and Collins brought to the table helped to cultivate the mature, well-rounded sound needed to accommodate their sophomore release, "All Day Long."
According to the band's website, "An Arkansauce show is riddled with improvisational guitar, banjo, and mandolin leads, paired with powerful harmonies and heart-felt songwriting, all held together by deep foot-stompin' bass grooves. There's an undeniably intimate connection between the band and their fans that's contagious and leaves everyone in front of, and on the stage wanting more. Arkansauce holds their head high, as they look forward to enjoying everything life and music has in store for them and their fans."
Arkansauce has performed throughout the state as well as Oklahoma, Texas, Mississippi, Colorado, New Mexico and Missouri.
Following the Nov. 1 event, First Friday will begin again in the spring.
Topics: About, Community Events