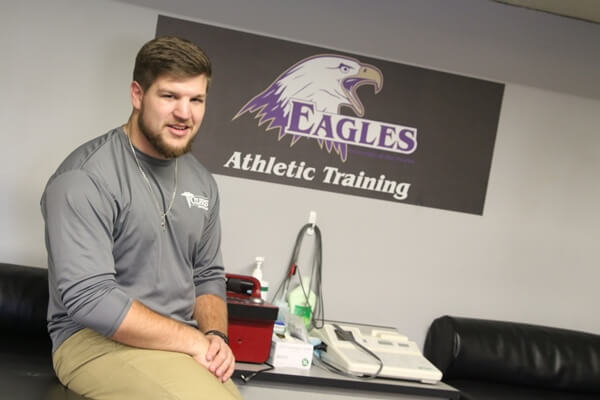 Though just a few weeks old, 2016 has already proven to be a banner year for University of the Ozarks senior Grady Finley toward his goal of becoming an athletic trainer.
Since January, Finley has served a nine-day athletic training internship in Panama and has also learned he had been accepted into the master's degree program in athletic training at the University of Arkansas.
The senior health science major from Sheridan, Ark., participated in the internship at the Cescal Sports Performance Foundation in Panama City, Panama, from Jan. 7-16. Cescal is a baseball training facility owned and managed by 1989 alumnus Tom Justice, a former baseball player at Ozarks.
Grady Finley spent nine days serving an athletic training internship at the Cescal Sports Performance Foundation in Panama City, Panama.
For Finely, a four-year letterman on the Eagles' baseball team, the internship provided real-world experience in a new environment.
"It was a great experience working with an athletic trainer from another country and at a sports academy that takes it athletics seriously," said Finley. "It was not only good experience for me as I head to graduate school, but it also enhanced my understanding of the athletic training profession and of working with professional caliber athletes."
Finley has worked as a student trainer with U of O head athletic trainer Chad Floyd for the past three semesters and it was Floyd who got him in to contact with Justice.
"Tom is a former Ozarks baseball player like me, so we hit it off pretty quickly," Finley said. "After emailing back and forth with him for several months, I became friends with his son, Michael, who was a new student at Ozarks in the fall semester and a new teammate with me on the baseball team.  From that point on, most of my contact with Tom was through Michael."
Finley said he first got interested in athletic training after being injured during his freshman year at Ozarks and spending time in the athletic training room.
"Chad Floyd displayed to me the true meaning of what I believe an athletic trainer should be," Finley said. "He handled my injury with professionalism and with a warm customer-service attitude.  At the time I was undecided on a major and leaning toward physical education and nursing.  With athletic training, I felt like I had found a good medium."
Finley was quickly hooked on the discipline and went on to accumulate more than 150 hours of observation with Floyd and assistant trainer Tina Moya.
"I needed those observation hours to apply for graduate athletic training programs, but I also realized that I was really enjoying it," he said. "During these observation hours I learned about the many various forms of treatment, rehab, modalities, and injury prevention that the athletic trainers practice daily."
It was while in Panama that Finley learned he had been accepted into the highly competitive master's degree program at U of A.
"On January 15, my last day in Panama, I received a text from the University of Arkansas program director asking me to give him a call," Finley said. "Since I was in Panama and my phone did not work internationally, I had to wait until we arrived to Michael's grandmother's house to make the call.  I called Dr. Jeff Bonacci at Arkansas and he told me he had a spot for me in their athletic training program. I heaved a big Tiger Wood's fist pump in excitement and stoically told him thank you very much and I looked forward to being a part of the program.  The next thing I did was call my mom back home so she could tell my family the great news."
Finley, whose goal is to become a certified athletic trainer, said the two-month application process for graduate school was rigorous and he credited his Ozarks professors and athletic trainers for helping him along the way.
"The application process was tedious, confusing, and stressful," he said. "It included many trips to the post office, to professors' offices, the administration building, and a lot of time spent in the athletic training room at Ozarks working with Chad and Tina to make sure that I was submitting all of my documents correctly and on time."
"Chad helped me so much with the application process, the internship, and especially just helping me learn about the practices involved in a career in athletic training. Tina was very helpful and genuine in helping me to understand the profession of athletic training and the graduate school process. Jeremy Provence always pushed me to learn more in his health science classes along with pushing me to go to graduate school. And, Dr. Pete Leroy has been my advisor the last two years and placed me in roles where I had to learn leadership and commitment. He also wrote me a letter of recommendation to Arkansas. A lot of people at Ozarks helped me throughout this process and I can't thank them enough."
Topics: Health Science