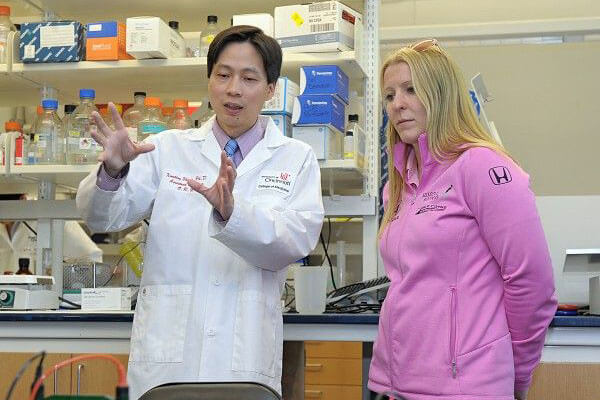 University of the Ozarks will present a panel of doctors and researchers from throughout the country for an event titled, "Finding the Cures," on Thursday, Nov. 15, as part of the 2018-19 Walton Arts & Ideas Series.
The event begins at 7 p.m. in the Rogers Conference Center. There is no cost for admission and the public is invited.
"Finding the Cures," will feature several experts in diseases such as cancer and Alzheimer's. Among the medical field academics who are expected to participate in the panel discussion are Dr. Steven W. Barger of Arkansas, Dr. Tim Hallstrom of Minnesota and Dr. Xiaoting Zhang of Ohio.
Barger is a professor in three departments—Geriatrics, Neurobiology & Developmental Sciences and Internal Medicine—at the University of Arkansas for Medical Services (UAMS) in Little Rock. A native Arkansan and graduate of Hendrix College, Barger was the first recipient of the Inglewood Fellowship for Alzheimer's research at UAMS. Since 1996, he has been jointly appointed at the Department of Veterans Affairs. He is also a member of the Alzheimer's Disease Advisory Board of the Arkansas General Assembly. Barger obtained a Ph.D. in cell biology at Vanderbilt University and has published over 100 scientific articles in the field of neuroscience and neurological disease. He has been funded by one or more grants from the National Institutes of Health for 21 years. He is senior editor at Neurobiology of Aging, deputy chief editor for the Journal of Neurochemistry, and is active on the editorial boards of two other scientific journals.
Hallstrom is an associate professor in the Department of Pediatrics, Division of Blood and Marrow Transplantation, at the University of Minnesota.  His NCI-funded research is focused on the regulation of gene expression, apoptosis, and cell fate outcomes in normal retinal development and the pediatric cancer retinoblastoma. Hallstrom earned his Ph.D. from the University of Iowa and did his post-doctoral work with Joe Nevins at Duke University where he studied the role of Rb and E2F in transcription and cancer.
Zhang joined the Department of Cancer Biology at University of Cincinnati College of Medicine in 2007 as an assistant professor and was promoted to a tenured associate professor in 2013. Zhang's laboratory focuses on understanding the molecular mechanism of gene expression regulation in breast cancer metastasis and therapeutic resistance using a combination of biochemical, molecular biology and mouse genetics approaches. He has recently been invited to edit the book "Estrogen Receptor and Breast Cancer" by Springer Nature to celebrate the 60th anniversary of the discovery of Estrogen Receptor. He is also a founding council member and chair of nomination committee of the International Society of RNA Nanotechnology and Nanomedicine.
Topics: About, Community Events