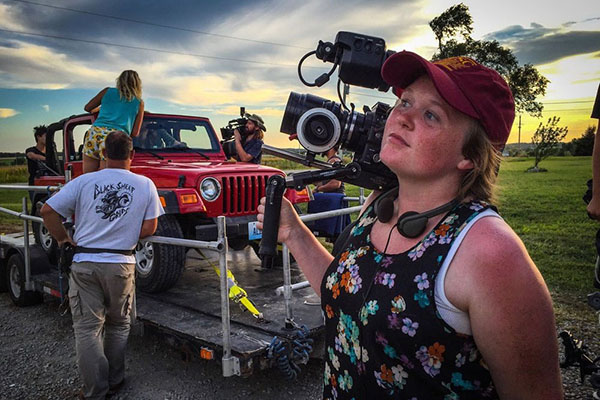 Award-winning filmmaker Morgan Dameron, who has worked on Hollywood blockbusters such as "Star Trek: Into Darkness" and "Star Wars: The Force Awakens," will speak about the making of movies in a public event at University of the Ozarks on Thursday, March 7.
The event, which is part of the University's Walton Arts & Ideas Series, begins at 7 p.m. in the Rogers Conference Center. It is open to the public and admission is free.
A native of Kansas City, Mo., Dameron has worked as a writer, director and producer. She has worked on numerous major films, including "Mission: Impossible — Rogue Nation." 
Her talk at U of O is titled, "Hollywood Behind the Scenes: The Making of a Movie."  Using her extensive experience on the set of some of the most popular movies of the 21st Century, as well as her own projects ranging from feature films to commercials, Dameron will discuss scripts, pre-production, casting, cinematography, special effects, distribution and other aspects of filmmaking. There will also be a Q & A session following her talk.
Dameron served as the personal assistant to filmmaker J.J. Abrams, who directed "Star Wars: The Force Awakens," and she even had a credited cameo appearance in the movie as resistance officer Commodore Meta. When writing the film's script, Abrams and co-writer Lawrence Kasdan used Dameron's surname for the title character of Poe Dameron, feeling it had a very Star Wars feel to it.
Dameron first picked up a video camera at age eight and has not set one down since. She received a Trustee scholarship to the University of Southern California's School of Cinematic Arts, where she graduated summa cum laude. Her award-winning short films have been selected to play at film festivals worldwide.
Her feature directorial debut, "Different Flowers," premiered to sold out crowds at the 32nd Santa Barbara International Film Festival and opened theatrically with AMC Theatres. "Different Flowers," which Dameron also wrote, tells the story of combative sisters Millie and Emma. On the day of Millie's wedding, Emma helps her run away, and they hit the road together. The film can now be seen on all digital platforms and was sold to Showtime.
Dameron has also directed branded content garnering tens of millions of views. She was selected for the Ryan Murphy HALF Foundation Director mentorship program, and shadowed director Gwyneth Horder-Payton on the set of American Horror Story Season 7.  She recently received the "Spirit of Kansas City" award from Kansas City Women in Film and Television for her work furthering the filmmaking community.
She lives in Los Angeles with a growing collection of ukuleles.
Topics: About, Community Events, Student Events