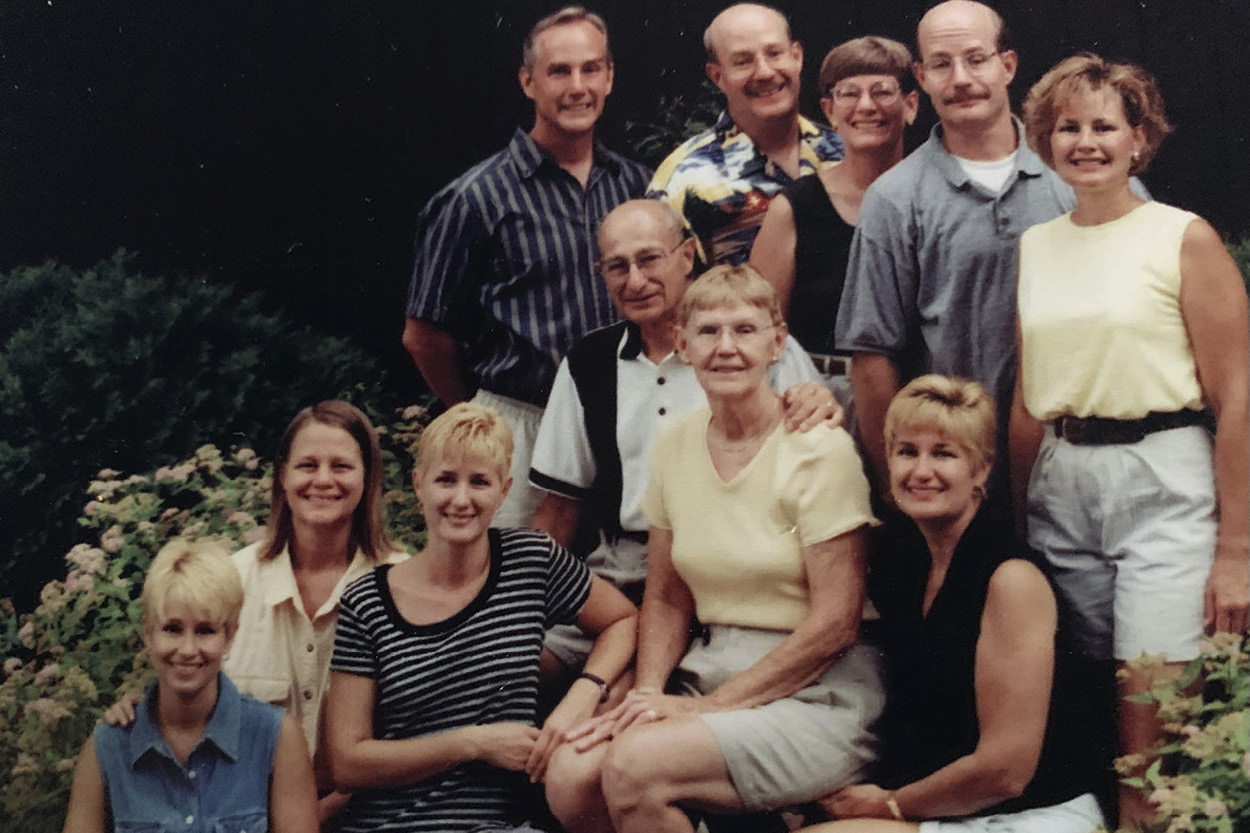 It was the summer of 1970 when John and Marge Figliulo drove from their hometown of Chicago to Clarksville, Ark., to bring their daughter, Virginia "Ginny" Figliulo Manning, to the University of the Ozarks campus after the family had learned about the college from a newspaper ad. That trip would be the start a long and endearing half-a-century relationship between the family and the University.
The Figliulo family will be presented with the University's 2022 Pay It Forward Award that is given to a "generous individual or a family who has made a difference in the lives of others through leadership, unselfish giving and direct financial support of the mission of University of the Ozarks." The award will be presented to family members during the Ozarks Awards Ceremony, scheduled for Friday, Oct. 21, during Homecoming week.
After Virginia Figliulo Manning attended Ozarks in 1970-71, five more of John and Marge's children would go on to graduate from the college: Loretta Figliulo Salazar '78, Maura Figliulo Howerton '80, Dr. Mida Figliulo Milligan '85, Anna Figliulo Dunker '87, and Michael Figliulo '87, along with two sons-in-law, Dr. Sam Manning '71 and Joel Swanson '80. They also had five grandchildren attend U of O: Dr. Margaret Manning McConville '02, John Manning '03, and Chad Milligan '07. Ruth Swanson Daum and Mida Swanson Nichelson were also at the campus in '02 and '04, respectively.
That's a total of 13 Figliulo family members who graduated or attended Ozarks over the past five decades.
"For more than 50 years, University of the Ozarks has been a special place for all the Figliulos and the site of many Alumni Weekend and Homecoming family reunions," said Mida Figliulo Milligan. "Ozarks has been a valued part of our family celebrations and stories for as long as I can remember. Our experiences there, the friends we made, and the professors who mentored us are all part of the tremendous legacy the University provided our family. It's an honor to be able to give back to a place that has meant so much to us."
In 2011, the family established the Marge Figliulo Memorial Scholarship Award at the University in memory of their late mother. While raising a family of nine children, Marge earned a bachelor's of education degree from Chicago Teachers College in 1962 and a master's degree in education from Chicago State College in 1967 before embarking on a 25-year teaching career in the Chicago Public Schools.
"She was a world traveler and avid reader who knew the importance of a quality post-secondary experience, especially for preparing highly qualified teachers," Mida Figliulo Milligan said. "In fact, many of her children and grandchildren followed in her footsteps with successful careers in education and advanced degrees/certifications. This scholarship honors her legacy of lifelong learning and support of higher education."
John Figliulo often joked that Ozarks appealed to the family because their oldest son, John, was already in college in the early 1970s closer to home and that he came home every weekend with his laundry. He said they wanted to find a place a little farther away that would not involve weekend trips home.
"My dad commented on what a great place Ozarks has been to gather over the years and how wonderful and friendly everyone at the campus always was," Mida Figliulo Milligan said. "My dad also shared that they felt that a smaller school provided a more personal and meaningful college experience, which it did. After Ginny attended and had a good experience, he and my mom wanted others to go, too, and fortunately we wanted to go. Traveling to Ozarks to drop off and pick up whoever was in college at the time was always a fun trip, and we got to know the campus, so it was an easier transition for us to make. He said he takes great satisfaction in seeing some of the grandkids make the choice to also go to school there, carrying on the legacy and tradition. He thinks that my mom would be very proud that we created this scholarship and that we continue to support the campus, knowing that we thought so much of where we attended school."
The Figliulo's legacy at Ozarks goes even deeper. Dr. Sam Manning's father, Edwin Larry Manning, earned a degree in history at what was then College of the Ozarks after serving in World War II. Sam earned a master's degree prior to becoming a teacher and later earned a doctorate while teaching. He is now retired in Texas, and travels the globe, while also having fun with family and friends. Virginia "Ginny" Figliulo Manning met Sam at C of O, and they married in 1972. She started work for the State of Texas in 1974 and obtained a bachelor's degree in Spanish in 1986. After retirement as a trainer for the state, she became a bilingual elementary teacher and is now a substitute teacher. The Mannings recently celebrated their 50th wedding anniversary and have two children, Dr. Maggie Manning McConville, and John Manning, along with four grandchildren.
Michael Figliulo worked for 25 years in law enforcement and ended his career as assistant executive director for the Cook County Sheriff in Cook County, Ill. He and his wife, Marva, have been married for 42 years and have one daughter, Bianca Figliulo Damante, and one grandchild.
Loretta Figliulo Salazar worked as a teacher in Texas, and, after obtaining her master's degree in education with a certification in counseling, worked as a high school counselor and department chair, retiring after 34 years in education. She and husband, Felix, have been married for 37 years and live in the Rio Grande Valley of Texas.
Maura Figliulo Howerton retired as managing director from Deloitte Tax after 32 years of providing expatriate and individual income tax consulting to multinational corporations and their international employees. She and husband, Brad, have been married for 15 years. They have five children: Ruth Swanson, Tyler Howerton, Mida Nichelson, Joel Swanson, Jr., and Krystyn Howerton, as well as six grandchildren.
Dr. Mida Figliulo Milligan retired after 35 years in education as a teacher, campus principal, and central office executive director in the Dallas area. She earned a master of education and doctor of education administration degrees, along with Texas mid-management and superintendent certifications. She and her husband, Billy, have been married for 35 years and have two children, Chad Milligan and Coleman Milligan, as well as one grandchild and one on the way.
Anna Figliulo Dunker has worked in the food industry, primarily sales of meat products, since graduation from U of O, setting sales records and managing successful sales teams. She currently works as a sales executive for Wagyu-X, a luxury beef company. Anna and her husband, Curt, have been married for 30 years and live in Oklahoma. They have one son, Grant Dunker.
Dr. Margaret Manning McConville has worked as a licensed massage therapist, later earning an associate of arts degree in pre-exercise science and a doctor of physical therapy degree. She currently provides physical therapy in hospital, clinic, and pediatric settings as an independent contractor in early intervention for children, ages birth to 3 years old. Maggie and her husband, Jason, live in New Mexico and have been married for 15 years. They have two children, Victoria McConville and Thomas McConville.
John Manning has been in public education for 19 years, as a math teacher, department chair, instructional coach, assistant principal, and principal. He has earned a masters of management and administrative sciences degree with a concentration in finance. He later obtained his principal certification and is currently serving as the principal at Deerpark Middle School in Round Rock, Texas. He and his wife Marjorie have been married for 11 years and have two children, twins Scout Manning and Levi Manning.
Chad Milligan has worked in quality control for 15 years and is currently senior manager for quality control/validation/quality continuous improvement for Swiss American CDMO. He and his wife, Elise, have been married for 12 years and live in Texas. They have one son, Huck Milligan, and a baby on the way.
Other siblings include John Figliulo, Jr., Mary Figliulo, and Martin Figliulo. The Figliulos have 15 grandchildren and 24 great grandchildren, with another one on the way.
"Perhaps there will be future Eagles from the Figliulo family," said Mida Figliulo Milligan.