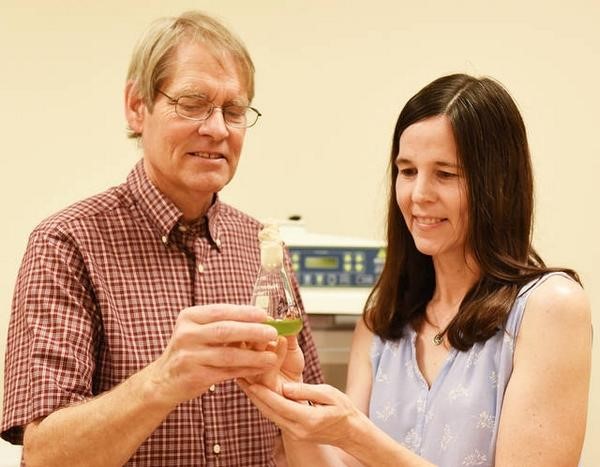 University of the Ozarks biology professors Dr. Karen (Phillips) Fawley and Dr. Marvin W. Fawley are the authors of two new scientific papers.
The married botanists have taught at Ozarks since 2018. Karen Fawley is an associate professor of biology and Marvin Fawley is an adjunct professor of biology. Each has been conducting research on algae communities for nearly three decades.
The first paper, titled "Toward Modern Classification of Eustigmatophytes, Including the Description of Neomonodaceae Fam. Nov. and Three New Genera," was published in the June 2020 issue of the Journal of Phycology and is a study of the taxonomy of a little-known, but potentially important group of algae, the eustigmatophytes. The work provides a formal name for a family of these algae that was recognized by the Fawleys in an earlier publication, and provides names for several newly discovered genera and species. 
The paper, with lead author Raquel Amaral, is part of the requirements for Amaral's Ph.D. at the University of Coimbra, Portugal. Eustigmatophytes are of interest as potential biofuels producers, but they also have high concentrations of healthy polyunsaturated fatty acids and are used as food supplements. The international collaboration also includes authors from the Czech Republic.
The paper can be viewed online at: https://doi.org/10.1111/jpy.12980
The second paper, "Identification of Eukaryotic Microalgal Strains," was recently accepted for publication by the Journal of Applied Phycology.  
"In 2019, Michael Borowitzka, the editor of the Journal, reached out to us to see if we would prepare a manuscript detailing modern procedures for identifying microalgae," Karen Fawley said. " We were happy to do so as we, too, recognized that many research papers in the field of applied phycology did not include proper information on the identity of the algae that were studied."
The Fawleys said the paper may well become the standard for identification of microalgae using a combination of morphology, the visible features of the alga, and modern DNA sequence analysis.
"The methods outlined in the paper were developed over nearly 20 years of working with undergraduate students on research projects to identify unknown algae, including University of the Ozarks students in genes and genomes, plant taxonomy and evolution, genetics, and cell biology labs,"  Marvin Fawley said. "We are very honored to be selected by Dr. Borowitzka to prepare this paper."
Support for their research was provided by grants from the National Science Foundation and the National Institutes of Health through the Arkansas INBRE program.