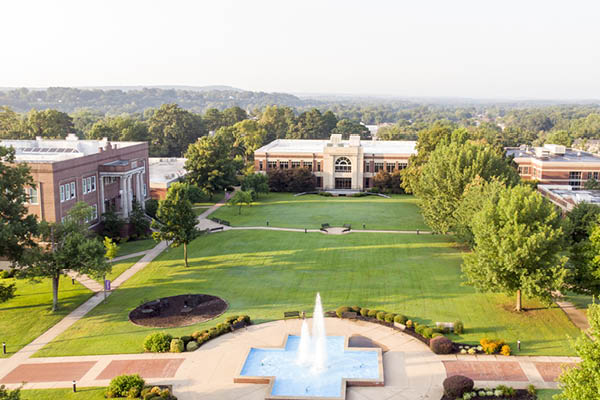 University of the Ozarks will begin classes for the 2021 Fall Semester on Tuesday, Aug. 24.
The University is planning to hold all of its classes in face-to-face, in-person formats throughout the semester. Masks and social distancing will be required in all classroom settings as well in large indoor gatherings on campus.
Masks will not be required outside or in gatherings smaller than 10 people if everyone in the group is fully vaccinated.
The University is strongly encouraging all students, faculty and staff to get their COVID vaccination prior to the start of the semester. The University will also host vaccination clinics for the campus community during the first several weeks of the semester.
"With the growing number of positive cases and hospitalizations in Arkansas and throughout the country, we will continue to encourage all of our students, faculty and staff to get fully vaccinated," said U of O President Richard Dunsworth. "We are excited about being able to offer in-person classes for our students, but we will still need to have mask requirements, social-distancing guidelines and limits on large gatherings in place until we can get more of our campus community vaccinated."
The University is expected to welcome more than 300 incoming, first-time students to campus for the New Student Orientation, which runs from Aug. 20-23.
The orientation begins with move-in from 8 a.m. to noon on Friday, Aug. 20. Because of Covid guidelines, a maximum of two parents or family members may accompany each student to campus for move-in.
Other events scheduled for the New Student Orientation weekend include, a welcome picnic on the campus mall and a variety of sessions to acclimate students to college life at Ozarks. For a complete look at the orientation schedule, please visit www.ozarks.edu/admissions-aid/orientation/
There will be an Opening Convocation to welcome both new and returning students at 5 p.m. on Monday, Aug. 23, on the campus mall. Classes will begin the following day.
Important Dates for the Fall 2021 Semester:
Aug. 24: Classes begin
Aug. 30: Last day to register for classes
Sept. 6: Labor Day Holiday (No classes, offices closed)
Oct. 4-10: Homecoming Week
Oct. 21-22: Fall Break (No classes)
Nov. 24-25: Thanksgiving Break (No classes)
Dec. 8: Last day of classes
Dec. 10-15: Final exams
Dec. 18: Fall Commencement