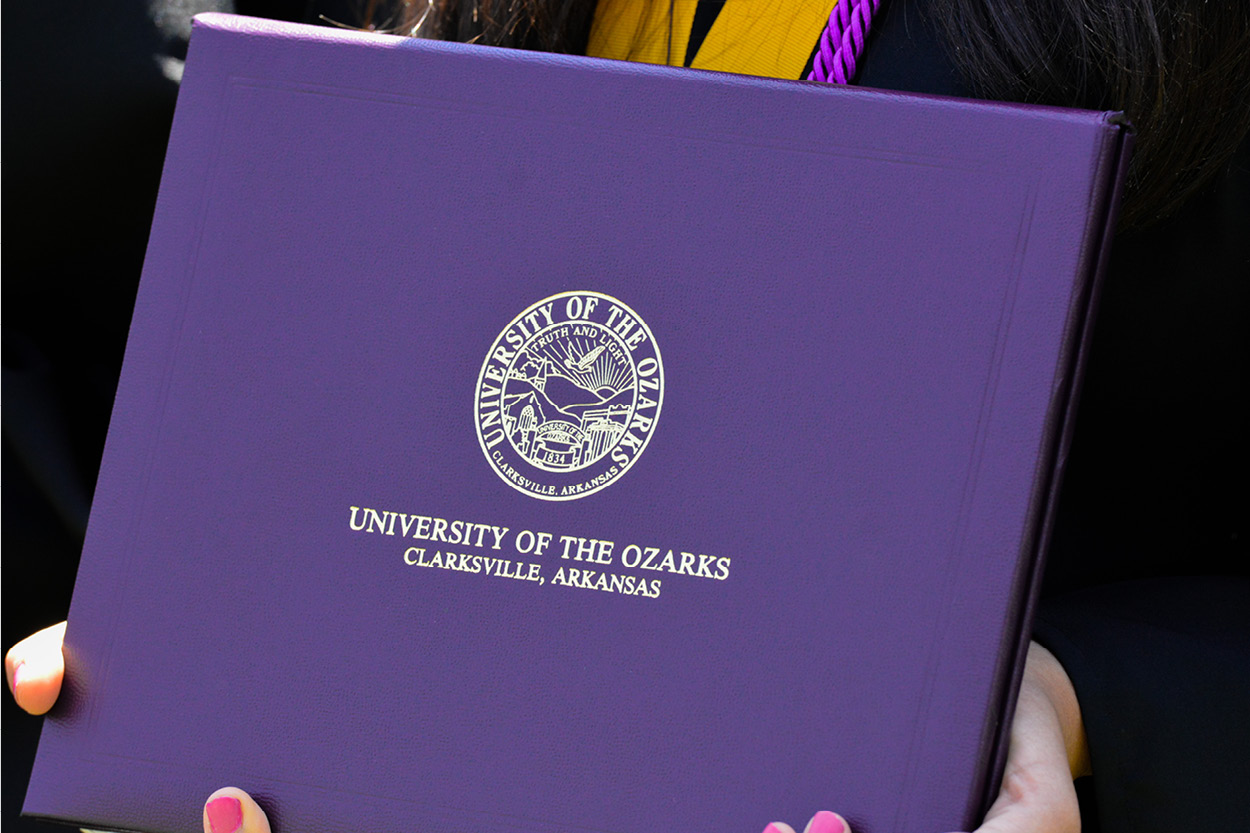 University of the Ozarks is expected to confer degrees upon 35 graduating seniors during the Fall 2021 Commencement ceremony, scheduled for Saturday, Dec. 18.
The in-person ceremony, which is limited to ticketed guests, will begin at 10:30 a.m. in the University's Mabee Gymnasium. Graduates will each be provided eight tickets for guests and Covid protocols, including mask requirements, will be in place throughout the ceremony.
Camyren Antu, a health science major from Arlington, Texas, has been nominated by the faculty and staff to serve as the senior speaker.  A member of the women's soccer team, Antu was an Academic All-Conference selection in 2020. She has also been a member of the President's Advisory Council as well as president of the Ozarks Humane Society.
The keynote speaker will be Kendra Akin Jones, a corporate attorney in Northwest Arkansas and a 2001 Ozarks graduate.  Akin Jones is the assistant general counsel for environmental issues for United States Steel, based in Pittsburgh, Penn.  In her role, she manages the team of environmental lawyers overseeing and advising the company on environmental matters. She has a diverse background in covering topics from litigation, to regulatory, sustainability and policy. Prior to joining U.S. Steel, Akin Jones was in roles as senior counsel environmental for Tyson Foods, Inc., and director senior counsel for litigation and contingencies for Windstream Services, LLC.
The graduation ceremony will be livestreamed on the University's Facebook page and Youtube channel.
Those students who are candidates for graduation include:
Camyren Anella Antu, Arlington, Texas
Hayden Ross Bohannan , Arlington, Texas
Colin Weldon Buckley, Amesbury, Massachusetts
Elisa Dawn Cantu, Argyle, Texas
Adrion Teresa Dantly, Nassau, The Bahamas
Briana Nicole Davis, Verdigris, Oklahoma
Juan Fernando de la Cruz, Frontera, Mexico
Michelle Dayanna Delgado Chacon, Palmichal, Costa Rica
Kelsey Brooke Dixson, Hector, Arkansas
Seth William Duke, Gravette, Arkansas
Ywa Ta Eh, Clarksville, Arkansas
Andric Fernando Garcia Cortes, Mexico City, Mexico
Eric Gasca Martinez, Dallas, Texas
Otoniel Gumbs, Chorrera, Panama
Harry Oliver Hilton, Manchester, England
Mark Lee Holder, Arlington, Texas
Ghael Ivan Jean Louis, Port au Prince, Haiti
Nadine Nubahimana Karabaranga, Rwanda
Alain Fitzgérald Louissaint, Port au Prince, Haiti
Tapiwa Manhungo, Harare, Zimbabwe
Rachael Trinity Leann Masterson, Clarksville, Arkansas
Ariel Nicole Li Xian McKinney, Penang, Malaysia
Steven Austin Neumeier, Bigelow, Arkansas
Jordan Kaye Phillippi, Midlothian, Texas
Jehanne Sarah Rameau, Port au Prince, Haiti
Michel Gregory Rankin, Charleston, Arkansas
Ann Estelle Rener, Leawood, Kansas
Richard Javier Rodriguez Rodriguez, Managua, Nicaragua
Lilian Rubayiza Intwaza, Kigali, Rwanda
Brittney Nicole Sain, Lake City, Arkansas
Nelcica Therassens, Port au Prince, Haiti
Keffgor Eder Thermozier, Leogane, Haiti
Kengor Nedgee Thermozier, Leogane, Haiti
Hannah Nicole Weatherford, Bismarck, Arkansas
Emily Lee Wright, Roswell, Georgia