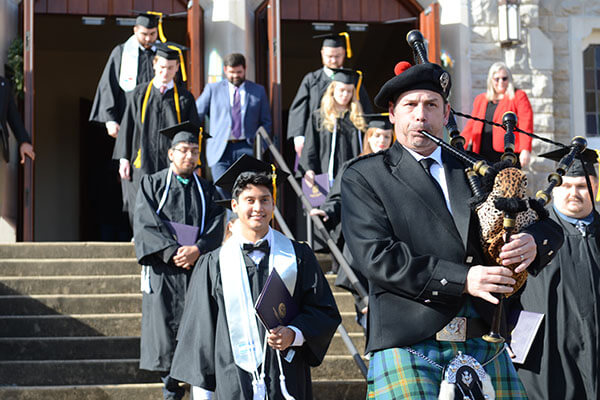 Approximately 24 graduating seniors are expected to receive their diplomas during the University of the Ozarks' 2015 Fall Commencement ceremony, scheduled for Saturday, Dec. 15.
The ceremony will begin at 10:30 a.m. in Munger-Wilson Memorial Chapel. Immediately following Commencement, there will be a reception for the graduates and their families and friends in the Rogers Conference Center.
Callie (Harmon) Daniels, a 1989 Ozarks graduate, will serve as the keynote speaker during the ceremony. She is a professor of mathematics and department chair at St. Charles Community College in Cottleville, Mo.  She is a Pearson author, writing college-level mathematics textbooks for students across the nation.  She has earned the Emerson Award for Excellence in Teaching as well as faculty of the year honors at St. Charles Community College.
A former standout basketball player at Ozarks, Daniels is a member of the American College Athletes Hall of Fame, the Van Buren High School Hall of Honor, and once held the all-time assist record at Ozarks. She has a master's degree in applied mathematics from Missouri University of Science & Technology and a master's degree in secondary education from the University of Missouri-St. Louis.  She is married to Kurtis Daniels and they have two sons, Clayton and Grady, who are both college students.
The senior welcome will be provided by Anna Armstrong, a general studies major from Fayetteville, Ark.
Commencement week will also include a senior dinner in the Rogers Conference Center at 6 p.m. on Thursday, Dec. 13, and a brick ceremony on the campus mall at 4 p.m. on Friday, Dec. 14.
Topics: About, Academics, Community Events