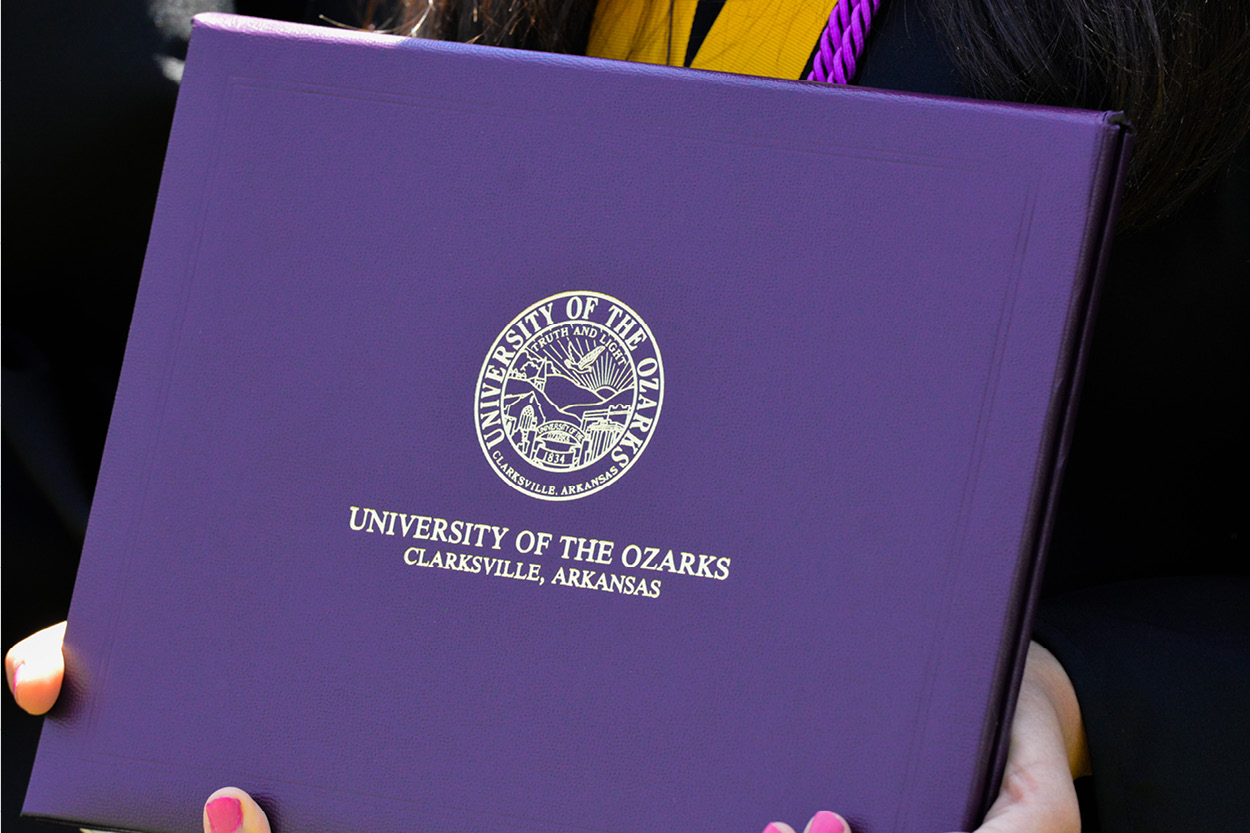 University of the Ozarks will hold its 2020 Fall Commencement in an all-virtual format at 11 a.m. on Saturday, Dec. 19.
The ceremony will be livestreamed via the University's Facebook page as well as through Zoom. The Zoom link for the ceremony is: https://ozarks-edu.zoom.us/j/3452301838
The ceremony will include live speakers as well as visual and pre-recorded presentations. The graduates, family and friends and the campus community will view the ceremony from their respective homes.
There will also be a Brick Ceremony for the graduates at 4 p.m. on Friday, Dec. 18, via Facebook Live. The graduates will have an opportunity to "place" their bricks in a virtual format beginning on Dec. 7.
Franqua Bedell, a 1999 graduate of Ozarks and a junior college national championship-winning coach and motivational speaker, will present the keynote address. Known as "Coach Q" to his peers and colleagues, Bedell was named the head women's basketball coach at Odessa College in July.
Prior to taking over at Odessa College, Bedell was the head coach at Tallahassee Community College from 2013-2019. His TCC team won the NJCAA Division I Women's Basketball National Championship in 2018. He was named the Spalding NJCAA Division I Women's Basketball National Coach of the Year after the 2017-18 season. He has also coached at Virginia Commonwealth, Missouri State, Mississippi State University, Southeastern Illinois College, Southeast Missouri State University and Hardin-Simmons University. Bedell is married to Crystal Ness, and they have a son, Amir, who was born in February 2020.
Joelle "Joey" Long, an honors biology graduate from Cabot, Ark., was selected by the faculty and staff to serve as the student speaker during the ceremony.
In addition to the December graduates, several Spring 2020 graduates have chosen to participate in the ceremony and will be recognized. The Spring 2020 Commencement, scheduled for last May, was cancelled because of the Covid-19 pandemic.
Fall 2020 Graduation Candidates
Brandon Batres
Forney, TX
Bachelor of Science
Major: Psychology
Minors: Criminal Justice, Spanish
Lakota Lillianna Brewer
Rudy, AR
Bachelor of Science
Major: Business Administration
Minors: Art, Marketing, Psychology
Cum Laude
Gloria Cito Cizungu
Kinshasa, DRC Congo
Bachelor of Science
Major: Business Administration
Minors: Spanish, Psychology, International Business
Garrett Hugh Donnell
Rogers, AR
Bachelor of Science
Major: Psychology
Minors: Education, History
Kirsten Marie Endicott
Rogers, AR
Bachelor of Arts
Major: Art
Minors: Education, Environmental Studies
Marana Joy Fulmer
Scranton, AR
Bachelor of Science
Major: Biology
Minors: Business Administration, English, Environmental Studies
Cum Laude
Daicza Garcia
Clarksville, AR
Bachelor of Science
Major: Business Administration
Minors: Health Science, Spanish, Strategic Communication
Magna Cum Laude
Denise Garcia
Clarksville, AR
Bachelor of Science
Major: Business Administration
Minors: Spanish, Health Science, Marketing
Himani Goel
Clarksville, AR
Bachelor of Science
Major: Accounting
Cum Laude
Ralph Sebastien Goldman
Port-au-Prince, Haiti
Bachelor of Science
Major: Biology
Minors: Chemistry, Management, Philosophy
Magna Cum Laude
Joseph Wade Jones
Booneville, AR
Bachelor of General Studies
Minors: Business Administration, Computer Science
Joelle Marie Long
Cabot, AR
Bachelor of Science
Major: Biology
Minors: Business Administration, Spanish, Chemistry
Cum Laude
Bradley David McGaw
Dallas, TX
Bachelor of Science
Major: Health Science
Minors: Art, Physical Education
Spencer Lloyd Neal
Van Buren, AR
Bachelor of General Studies
Minors: History, Psychology, Strategic Communication
Kaenan Tye Nix
Chandler, TX
Bachelor of Science
Major: Business Administration
Minors: American Studies, Marketing
Cum Laude
Sergio Isac Nugent
Katy, TX
Bachelor of Science
Major: Business Administration
Minors: Mathematics, Spanish
Marcelina Pop
San Pedro Columbia, Toledo Belize
Bachelor of Arts
Majors: English, Psychology, Education
Magna Cum Laude
Ashante Terricka Pratt
Nassau Bahamas
Bachelor of Arts
Major: Art
Minor: Marketing
Summa Cum Laude
Adolfo Sotolongo
Miami, FL
Bachelor of Science
Major: Health Science
Minors: Business Administration, Spanish
2020 Spring Graduates
Juan Daniel Cano
Santa Clara Village, Belize
BS, Business Administration
Minors: Economics, Education, Mathematics
Cum Laude
Cherokee Dawn Gott
Claremore, OK
BS, Environmental Science
Minors: Sociology, Spanish
Magna Cum Laude
Grayson Eugene Hill
Springdale, AR
BA, History, Spanish
Minor: Political Science
Magna Cum Laude
Teranne Meaghan Laurén Morrison
Nassau, The Bahamas
BS, Biology
Minors: Sociology, Chemistry, Spanish
Magna Cum Laude
Lidia Esperanza Caz Perez
Coban, Guatemala
BS, Business Administration, Accounting, Psychology
Minor: Economics
Magna Cum Laude
Rebecca Marie Willems
Subiaco, AR
BS, Business Administration
Minors: Mathematics, American Studies
Andrés Jesús Jiménez Zumbado
San Rafael, Costa Rica
BA, Communication Studies, Psychology
Minor: Music
Magna Cum Laude
Topics: About, Academics, Community Events, Student Events