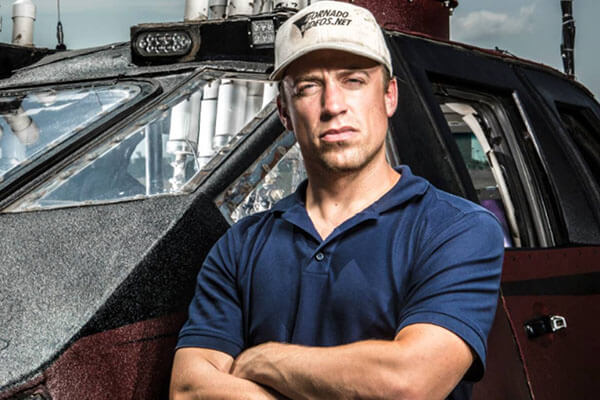 Renowned storm chaser and extreme meteorologist Dr. Reed Timmer will speak at University of the Ozarks on Thursday, Sept. 27, as part of the University's 2018-19 Walton Arts & Ideas Series.
The event will begin at 7 p.m. in the Rogers Conference Center. There is no cost for admission and the public is invited.
Timmer will discuss his career as a TV meteorologist and celebrated storm chaser. There will be a question and answer session with Timmer at the end of his presentation.
Timmer completed a Ph.D. in meteorology from the University of Oklahoma in 2015 after starring on Discovery Channel's hit TV series Storm Chasers for four seasons. He has been storm chasing for Accuweather the last two years, providing coverage of extreme weather in the U.S. such as tornadoes, hurricanes, blizzards and flash floods. He most recently covered Hurricane Lane in the Hawaiian islands in August.
Reed has documented more than 1,000 tornadoes and dozens of hurricanes in 18 years of storm chasing, including historic extreme weather events like Hurricane Katrina in 2005 and the super tornado outbreak in "Dixie Alley" in April of 2011.
Reed is well-known for his tenure on the Storm Chasers series during 2008-2011, and the intercepting of tornadoes using custom-built, armored tank-like vehicles called the Dominators. Reed published an autobiographical and educational book, "Into The Storm," in 2010.
When he's not chasing storms, Timmer can often be found in university lecture halls and civic auditoriums speaking on severe weather preparedness and the science of extreme storm chasing or researching the seasonal climatology of severe weather and its teleconnections with the Pacific and Atlantic Oceans and Gulf of Mexico.
U of O alumnus Joe Pennington, a meteorologist with KFSM, Channel 5 in Fort Smith, will introduce Timmer at the event.
The Walton Arts & Ideas Series has been sponsored by the Walton Family Charitable Support Foundation since 1994. For more information about this year's series, please contact the Office of Public Relations at 479-979-1420.
Topics: About, Community Events