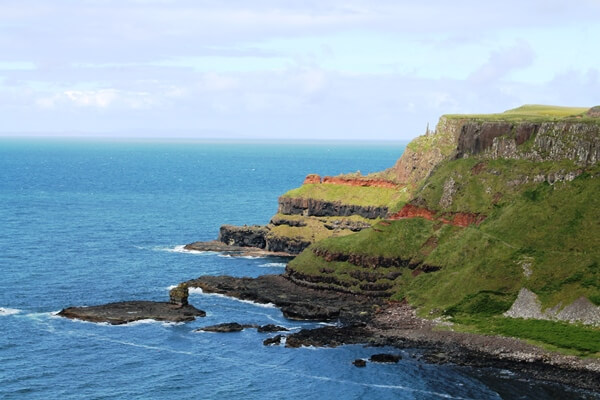 Nena Evans spent her summer not only developing her outdoor and leadership skills, but also hanging ten at one of the best surfing spots in all of Europe.
The senior environmental studies major from Bergman, Ark., spent 10 weeks during the summer of 2015 interning as a staff member at the Donegal Adventure Center in Bundoran, Ireland. Located in the northern part of Ireland, Bundoran is a renowned surfing area that was listed by National Geographic in 2012 as one of the World's Top 20 Surf Towns.
In her position with Donegal Adventure Center, Evans assisted in leadership and recreational activities for clients ranging from 7-years-old to adults. The activities included high and low ropes courses, a rock wall, an adventure challenge course, body boarding and group team-building games.
"There were times when I was in charge of large groups of children, so it definitely helped me develop my leadership and teaching skills," said Evans. "I learned a lot about working with children and walking that fine line between being an authority figure and also being a friend."
One of the most fulfilling aspects of her work was watching the children gain confidence while at the adventure center.
"It was great to work with children and to see them develop and see their confidence grow as they went through the courses," Evans said. "On the high ropes course, it was about 20 feet high and you had to reach out and grab a trapeze bar, which isn't an easy thing to do even for adults. We had one kid who couldn't do it the first couple of times but finally did it the third time and it was such a big accomplishment for him. It was quite satisfying to help children like that grow and do things they didn't think they could."
Evans said her experience as a student worker with the University's Ozarks Outdoors program helped prepare her for the internship.
"I was familiar with a lot of the activities, like rock climbing and belaying, and was comfortable around the equipment," Evans said. "That definitely made for a smoother transition."
Evans learned about the internship opportunity from former Ozarks Outdoors Director Jamie Hedges and Provost Dr. Travis Feezell, who traveled to Ireland last year for an outdoors conference. She secured funding from the University's Academic Enrichment Fund to help pay for her expenses.
"They helped arrange this opportunity and I'm so thankful to them and to the University," Evans said. "I never would have thought that coming from a small town like Bergman, Arkansas, I would have these types of experiences while in college."
Senior Nena Evans served a summer internship in Bundoran, Ireland, one of the top surfing areas in Europe.
Despite the fact that the cool, damp Irish weather allowed her to wear shorts on only three days of her entire summer internship, Evans donned a wetsuit and braved the elements to hone her surfing skills. The nearby beach was about a 30-minute walk.
"Having the opportunity to surf at one of the best surfing beaches in Europe was an extra bonus," Evans said. "I ended up surfing three to four times a week. I had only tried surfing one time before then, so I had a lot to learn, but I really enjoyed it. I actually got pretty good on the foam board."
Evans' first trip to Europe culminated with a week-long visit to Italy before returning to the States.
"The whole experience was an amazing learning and growing experience for me," Evans said. "Ireland has always been number one on my travel list and to get to spend the summer there and in Italy was an incredible blessing."
Evans was named the state's 2014 Student Conservationist of the Year by the Arkansas Wildlife Federation for her efforts with conservation on the Ozarks campus. After graduation, she plans to pursue a graduate degree in sustainable agriculture. But first she wants to take a year off, perhaps working for an organization like the World Wide Opportunities on Organic Farms (WWOOF).
"I have a passion for sustainable agriculture and for promoting local foods and I want to travel and get some real-world experience working with organic farms in other parts of the country and world," Evans said. "I believe that type of experience will be beneficial when I start working on my master's degree."
Topics: Environmental Studies