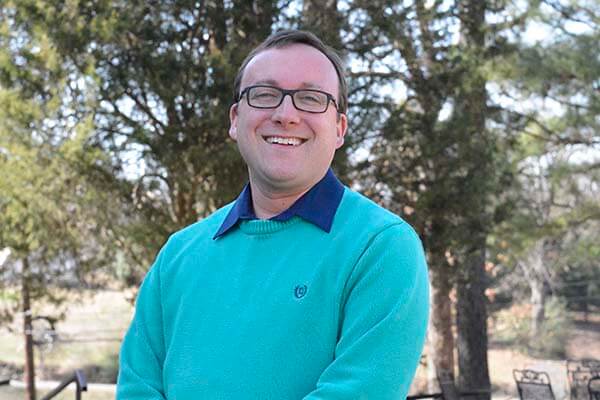 Matthew Eubanks will transition into the director of counseling services position at University of the Ozarks, effective August 1, 2019.
Eubanks has served as the coordinator of autism spectrum disorder (ASD) services in the University's Jones Learning Center since 2016.
The counseling services director position will be housed under the Office of Student Affairs and is responsible for providing leadership and strategic planning in the development and implementation of a comprehensive mental health support program for U of O students.
It is believed to be the first time the University's has had a full-time dedicated clinical counseling position.
"I'm looking forward to joining with student affairs to provide a wide range of short-term therapy and counseling services for Ozarks students," Eubanks said. "Whether students are having difficulties adjusting to college life and facing typical stressors or dealing with anxiety, depression, or other concerns, I'm happy to help. As the semester begins, I'll be offering individual therapy sessions, putting together various therapy groups, and connecting Ozarks with resources in Clarksville and the surrounding areas, as needed."
Eubanks is a licensed professional clinical counselor and a nationally certified counselor. He has a master's degree in counseling from Asbury Theological Seminary in Kentucky as well as a bachelor's degree in religion from the University of Mobile in Alabama.
As the director of counseling services, Eubanks will facilitate short-term individual and group counseling sessions, crisis intervention, mental health education and awareness education, and referral to community based counseling services.
"We are excited for Matthew to join the Student Affairs staff in the upcoming year," said Luke Morrill, dean of students. "He has served as an incredible resource during his time with the Jones Learning Center. Having an impactful staff member such as Matthew transition to the new director of counseling services role will provide all Ozarks students with outstanding access to a range of mental health resources. I look forward to working with Matthew to ensure that the personal wellness of our students is more holistically supported during their time at the institution."
In his role as coordinator of ASD services, Eubanks designed, implemented, directed and staffed the Living and Learning Community (LLC) for first-year students with ASD to complement their first year of academic work. He also developed and implemented seminar sessions regarding positivity and mental health for JLC students during the Spring 2019 Semester.
From 2012 to 2016, he served as a therapist and case coordinator for the Brewer-Porch Children's Center at the University of Alabama College of Arts & Sciences. He also has experience in publishing and in children's and music ministry.
Topics: About