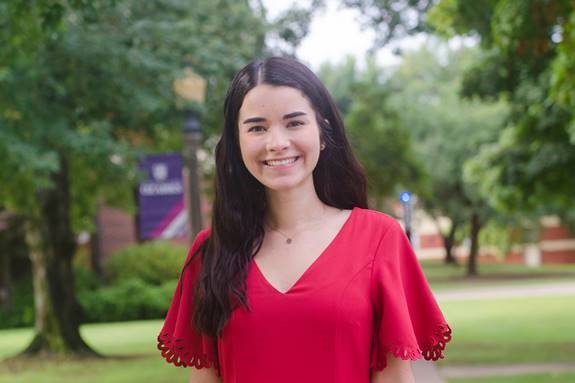 Nicole (Justice) England will become the University's new director of student life, effective this week.
A 2018 graduate of Ozarks, England has served in the University's Office of Admission as the international program and global outreach manager since July 2019.
In her new position, she will serve as the chief student life officer and will be responsible for providing leadership and administrative direction to a comprehensive and vibrant student life program, including the overall administration of a variety of university residential facilities, student engagement and recreation. She will supervise a staff that includes the director of student engagement, director of residential life, and the director of campus recreation. She will report to Reggie Hill, vice president for marketing and enrollment.
England said her goal is to develop and maintain a student experience that complements and supports the mission of the University and enriches the quality of student life on campus. She will also continue to coordinate University's study abroad program.
"I am very excited to serve the Ozarks community in the Office of Student Life and continue to support the University's mission, vision and strategic goals," England said. "I look forward to leading a student life program that honors diversity and access and celebrates the engagement of all of Ozarks' students.
University of the Ozarks is a unique and special place and I am truly honored for the opportunity to envision and develop the Ozarks experience. I am also excited to continue to develop new study abroad partnerships and programs to offer students an enriching and engaging cultural and intellectual experience.
A native of Panama, England graduated from Ozarks with majors in political science and international business with Summa Cum Laude honors. She recently completed a master's degree in international relations from Queen Mary University of London.
As a student at Ozarks, England worked in the Office of Student Life, the International Office and the Jones Learning Center. She also previously worked as an independent contractor for the Forrester-Davis Development Center as a grant writer and administrative assistant.
Several members of her family are also U of O graduates, including her father, Tom Justice '89; her mother, Lilia Carrion '90; and her brother, Michael Justice '17. Also, her husband, Aaron England '16, is an Ozarks graduate.
Topics: About, Student Life